Music and Culture for Adults
Mitchell Korn, instructor
Music and health are powerful partners. Cumulative research continues to show that listening to, enjoying and learning about music contributes to emotional health, social interaction, and brain and memory function. We know that for adults, music and music education lower anxiety and increase positive viewpoints and community engagement.
Music has a unique ability to integrate the hemispheres of our brains. It reinforces our creative and rational abilities, while keeping healthy neural paths functioning at full capacity. It is among the most successful treatments for brain trauma or dysfunctions including dementia, Alzheimer's, autism spectrum disorder and brain injury. Music is a powerful stimulant for brain and emotional welfare!
Adult music classes dedicated to enjoying music together, viewing great ensembles and musicians, and discovering "access points" into studied works provide access and enjoyment to all. Join us for our "Symphony 101" and "Great Music, Great Film" classes and experience the many benefits of adult music learning!
My dedication and commitment to teaching adult courses for Blair Academy is based on creating, engaging, and passionate access to great symphonic works and cinema for my lifelong learners. 
Every symphony, concerto and film I teach is shared online through outstanding video and audio. I utilize an aesthetic education method where I provide "doorways" into these wonderful works, by focusing on "behind the scenes" stories, scholarly research, images, biography, and discussion. 
Each week, one work is deeply explored over a two-hour class. We laugh, we cry and we come together as an adult online community. Join us!
Fall 2020 courses
Great Music, Great Films - on Zoom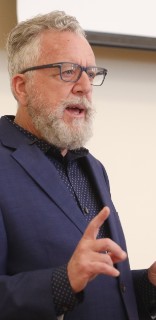 Join the Blair School Of Music's Mitchell Korn in an exploration of important films where music and musicians play the central role in the story. From film noir dramas, award-winning scores, and musical biopics to more contemporary narratives about the lives of composers and musicians, come to enjoy the power of music and cinema together. Films this fall include My Man Godfrey (1936), Design for Living (1933), Ninotchka (1939), Shop Around the Corner (1940), Sullivan's Travels (1941), and Anatomy of a Murder (1959).
Symphony 101: New Ears for Music and the Orchestra - on Zoom
Now available everywhere through Zoom, join Mitchell Korn as he brings great music to you in the convenience of your home. Be part of the discussion as he uses video, images, stories, and listening guides to bring this music to life. Highlights this fall include:
Beethoven Symphonies No. 5 and 9
Yo Yo Ma and Goat Rodeo
Strauss A Hero's Life
Greig Piano Concerto