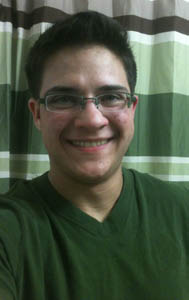 Hello! My name is Sam Rhoades, and I'm a senior violin performance major at the Blair School of Music.
If you're reading this, you already know that the Vanderbilt Orchestra is going on tour in China this holiday season. The purpose of this blog is to share some of this incredible experience with our friends and family. Allow me to cordially invite you to come along for this wild and crazy ride, as we fly, bus, and high-speed train our way through five concerts in mainland China! 🙂
I cannot tell you how lucky I feel to be a part of this once-in-a-lifetime experience. I'm thrilled to share music with audiences literally halfway around the world from where I grew up! I'm a little nervous, because we will be doing SO MUCH traveling between concerts, but I'm sure that a few novels (a small group of us have arranged a book exchange for the trip), two decks of cards (now I can REALLY learn how to play Rummy), and my travel Scrabble game will be plenty of distraction.
Mom and Dad, I know that I told you we weren't promised much sleep, but take comfort from the fact that we will have three excellent meals provided for us each day. I promise I will follow the sage advice of our various tour personnel and not partake in the roadside food adventures we have been told might also bring less pleasant adventures of the GI tract.
Side note: I am almost as excited about the food opportunities as I am about performing for so many people. I have a lot of enthusiasm about this entire trip all pent up, and now everything seems like it's insanely exciting and new — food, performing my first concerts for audiences that don't primarily speak English (the true test of music as a universal language), seeing the Great Wall and the Forbidden City, etc.
So the journey begins. At 9 p.m. CST tonight (Dec. 24, 2012) we will start the drive from Nashville to Atlanta, and from there, in the wee hours of tomorrow morning, we will embark on the ~24 hours of flights that will eventually put us in Shanghai! Wish us luck!
Stay tuned for more tales. I wish you all a very happy holiday season!
— Sam
P.S. To my family: I know I am not home for Christmas this year, but know that I'll be thinking of you all. I love you all very much! (Especially you, Caelan!)