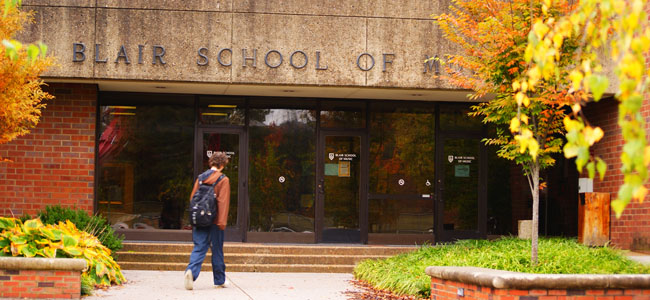 For additional information please see the Blair Student Handbook and Blair Faculty Handbook.

Maintaining one's health is important for all musicians. Be careful to monitor your joint health, nutrition, anxiety or stress, and make good choices about time management, socializing and use of substances. Preventive care is a good defense against overuse syndromes, which often occur among music students and can adversely affect performance. Should you need help, comprehensive medical services are available to Blair School students through the Student Care Network.
The Student Care Network is a holistic network of services and resources pertaining to health and wellness that is available to all Vanderbilt University students. Primary offices include the Office of Student Care Coordination, the University Counseling Center, the Student Health Center, and the Center for Student Wellbeing. Students also have access to a wide range of additional on-campus and community resources through the Student Care Network - from the Vanderbilt Recreation and Wellness Center to the Project Safe Center to a variety of community providers.
Many students face challenges during their educational experiences and each situation is unique. The Office of Student Care Coordination is the first step to determine where to go for the most appropriate support for your needs. Students are encouraged to visit www.vanderbilt.edu/carecoordination to complete an initial assessment and schedule an appointment to meet with a Student Care Coordinator. Students may also call 615-343-WELL (9355) or drop in to see a Student Care Coordinator 8 a.m.-5 p.m. Mondays-Fridays in Sarratt Student Center, Suite 100.
As a key component of Vanderbilt's Student Care Network, the University Counseling Center provides mental health assessment, support and treatment for all students enrolled at Vanderbilt. Highly skilled and multidisciplinary teams of professionals offer crisis intervention, substance abuse counseling, short-term individual counseling, group therapy, biofeedback, ADHD and learning disorder assessments, and psychiatric assessment and pharmacologic treatment. Treatment plans are tailored to each individual's unique background and needs. UCC professionals support the University's mission of fostering inclusive excellence through cultural awareness and competence. In addition to regular hours and evening/weekend crisis response, the UCC offers various "Let's Talk" locations and affinity groups. To access UCC services, contact the Office of Student Care Coordination.
The Zerfoss Student Health Center serves the primary care needs of the Vanderbilt student community. There are no office co-pays for routine visits, and all registered students are eligible for care, regardless of insurance coverage. The physicians and nurse practitioners have chosen college health as their area of expertise and interest, and are dedicated to meeting the unique health care needs of the student population. Call 615-322-2427 for an appointment, or visit the Acute Care Clinic, where patients are seen on a first come, first serve basis. Students facing an extended absence from classes should contact Associate Dean Melissa Rose for advice.