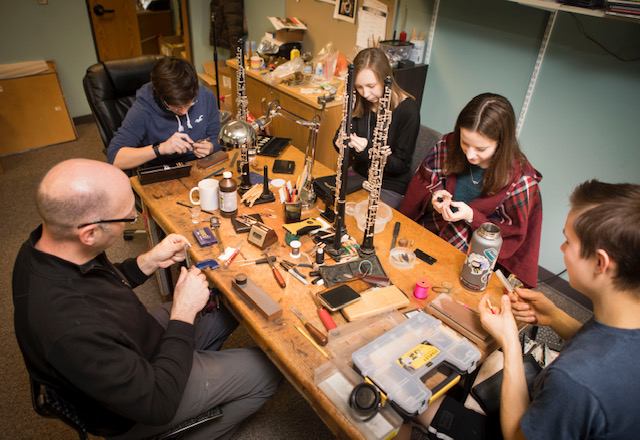 Department chair: Peter Kolkay
The Woodwinds Department maintains the highest possible standards, offers an exceptional musical and intellectual education, and fosters an atmosphere where artistry and creativity can thrive. Students work with the primary professors in each instrumental area, and a low student-teacher ratio ensures dedicated, personalized private instruction.
Music majors enjoy an environment rich with gifted, intelligent peers; regular performances by both students and faculty (who at times perform together), and stimulating, challenging class work. Chamber music is an important focal point of the program, with all student groups coached on a regular basis. An innovative large ensemble organizational structure assures an opportunity for both leadership roles and a variety of ensemble experiences -- orchestra, wind symphony, contemporary ensemble, opera and oratorio orchestras, concert winds and chamber players. Weekly performance classes and student recitals allow for essential on-stage experience and feedback.
Frequent performances by faculty, including the resident faculty woodwind quintet, visiting guest artists and master-class teachers, as well as by student ensembles, are a vital strength of the program.
The following Woodwinds Department faculty offer instruction to Blair School undergraduate music majors:
Pre-screening & Audition Repertoire Requirements
All applicants must complete a pre-screening video according to their program (instrument, voice, composition or jazz.) Pre-screening requirements are the same regardless of your specific major of interest. For example: all voice applicants will follow the vocal requirements below no matter what they plan to major in (Performance, Integrated Studies, or along the Musical Arts degree.) Once the admissions process is complete, admitted students will notify us of their intended specific major. You can learn more about these majors here. Jazz applicants should follow the specific Jazz requirements for pre-screening and audition on their primary instrument or voice.
All applicants should feel free to reach out to Blair Admissions with audition repertoire questions.
Recommended Audition Repertoire for Woodwinds

Flute

Major and minor scales (audition only)
Three contrasting solo works; single movements from larger pieces are acceptable (pre-screening and audition)
Two contrasting orchestral excerpts (audition only)

Oboe

Major and minor scales (audition only)
Two selections from the oboe literature that contrast in style and time period, and represent the applicant's musical maturity and technical skill. Selections may be single movements drawn from a sonata, concerto, similar concert piece, or a work for solo oboe. (pre-screening and audition)
Either a Ferling étude or one of the Barret 16 Grand Studies (pre-screening and audition)

Clarinet

3 Major scales, 3 Melodic minor scales, 3 octaves when possible (audition only)
One movement from either the Mozart Concerto or a Crussell Concerto (pre-screening & audition)
One work of your choice written after year 1950 (pre-screening & audition)
Two contrasting etudes from Rose (32 etudes), Alfred Uhl or Cavallini (pre-screening & audition)
At least 2 major orchestral excerpts (audition only)

Saxophone

Three major and three harmonic minor scales of applicant's choice, at least two octaves (pre-screening only)
Two complete contrasting études from Ferling's 48 Famous Studies or Voxman's Selected Studies (pre-screening and audition)
Two contrasting works from the standard saxophone repertoire which best demonstrate the applicant's technical and musical skills. Single movements from larger works are acceptable (pre-screening and audition)
Sight-reading (audition only)

Bassoon

One étude from the Concert Studies, Op. 26, of Ludwig Milde (pre-screening and audition)
Two contrasting solo works; single movements from larger pieces are acceptable (pre-screening and audition; only one for pre-screening)
Sight-reading (audition only)