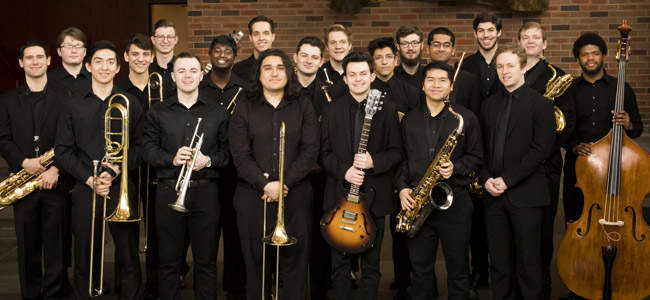 Director of Jazz Studies: Ryan Middagh
The department of Jazz Studies at Vanderbilt's Blair School of Music pursues in-depth study of North American improvisational music and how it intersects with diverse music of the world. Through excellence in scholarship, creative live performance, touring; recording sessions, and community outreach and engagement, we foster the next generation of professional musicians, creative artists and critical thinkers.
Pre-screening & Audition Repertoire Requirements
All applicants must complete a pre-screening video according to their program (instrument, voice, composition or jazz.) Pre-screening requirements are the same regardless of your specific major of interest. For example: all voice applicants will follow the vocal requirements below no matter what they plan to major in (Performance, Integrated Studies, or along the Musical Arts degree.) Once the admissions process is complete, admitted students will notify us of their intended specific major. You can learn more about these majors here. Jazz applicants should follow the specific Jazz requirements for pre-screening and audition on their primary instrument or voice.
All applicants should feel free to reach out to Blair Admissions with audition repertoire questions.
Audition Repertoire for the Jazz Department

Applicants interested in the Bachelors of Music in Jazz Studies should prepare the following on their primary instrument or voice. *Note: Students auditioning on drum set, please contact Marc Widenhofer for additional details.

Select three tunes from different categories on the list below, play melody and improvise over the form. All repertoire should be performed from memory. (pre-screening and audition) 

Blues: Billie's Bounce; Footprints; Blues for Alice
Great American Songbook: Lullaby of Birdland; Take the A Train; Someday My Prince Will Come
Ballad: In a Sentimental Mood; Body and Soul; Skylark
Rhyth m Changes: Anthropology; Oleo; Rhythm-a-ning
Latin/Straight 8th: Desafinado; La Fiesta; Mas Que Nada

Major and Minor Scales (audition only) 
Rhythm Section instruments demonstrate ability to play diverse styles and grooves (audition only) 
An additional tune from a different category (from the list above) that was not included in pre-screening selections (audition only)
Sight Reading (audition only)