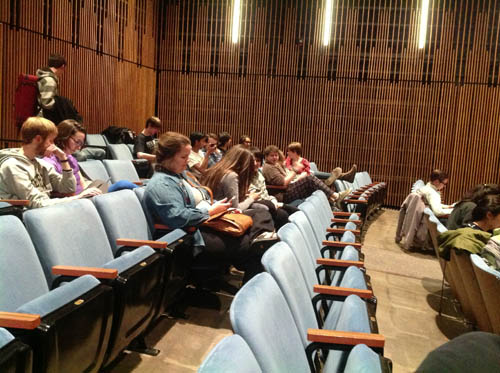 Heeeere we go!  Just passed the first test, the weighing of the luggage. Sitting in Steve & Judy Turner Recital Hall, waiting for the group to filter in. I'm very impressed with my own luggage, weighing in at just 37 pounds. Lillian probably wins though, at 22 pounds. We all know who to give our souvenirs to on the travel home!
We'll be traveling on three separate flights, three separate airlines. I am skeptical about this. If we all make it to China in one piece, I'll be extra impressed.
Here's a photo of Briana Oliver, flute, and Thomas Crespo, bassoon! I like Briana's glasses.  Probably y'all will be getting a lot of updating about the trip there since, well, we'll be traveling for a zillion hours!