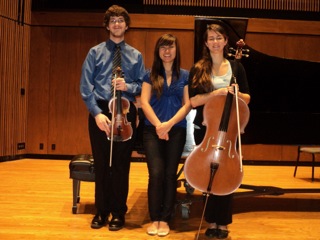 At the annual MTNA (Music Teachers National Association) Southern Division Finals, several Blair students took honors, and one student ensemble will move on to the national competition in March.
The Southern Division competition was held January 18-21 at the University of North Carolina-Greensboro, in Greensboro, N.C.
Most notably, the Music City Trio, a piano trio featuring Nathan Lowry, violin, Jennifer Pittman, cello, and Susan Yang, piano, took first place in the Chamber Music String category. They will go on to compete in the National Finals at the MTNA National Convention in Anaheim, Calif., in March. The trio is coached by Amy Dorfman and John Kochanowski.
Other Blair students who placed include:
Ethan Bauer, violin, student of Cornelia Heard, was an alternate in the Young Artist Performance String category
Chloe Harvel, violin, student of Carolyn Huebl, took an honorable mention in the Junior Performance String category.