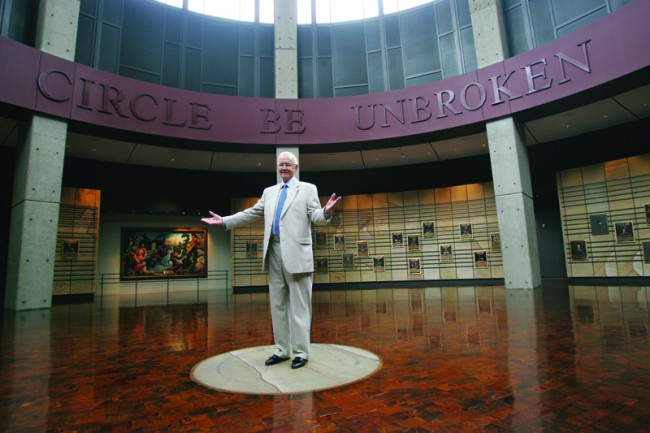 The Blair School of Music joins with the entire music community to mourn the passing of legendary music industry executive and producer Jim Foglesong, who died Tuesday morning (July 9) at the age of 90.
"Jim was a grand gentleman with a marvelously generous spirit," said Blair School of Music Dean Mark Wait. "He had a great ear for music of every kind, and he gave freely of his expertise to countless students and young professionals. I was privileged to know him and to learn from him."
Foglesong taught "The Business of Music" at the Blair School from 1991-2012, a weekly three-hour seminar that was one of the school's most popular course offerings. After his retirement from teaching he remained on Blair's faculty in an advisory capacity and continued to work closely with students.
He began serving on the Blair School's KeyBoard in 1992, most recently as a member of the Music Industry Outreach subcommittee.
Foglesong's career was one of the most illustrious in the entire music profession. After serving in World War II, Foglesong studied at the Eastman School of Music as a voice major, graduating in 1950. He then went to New York City, where he was hired by the Robert Shaw Chorale to sing the Verdi Requiem with the NBC Symphony Orchestra under the direction of Arturo Toscanini.
In 1951, he took a job with Columbia Records, working with engineers to transfer Columbia's catalog to tape. Later, he helped launch Columbia's Epic imprint, learning about distribution and promotion while producing such acts as Bobby Vinton and Roy Hamilton. He also produced recordings by Julie Andrews, Doris Day and Robert Goulet at Columbia Records.
In 1964, Foglesong moved to RCA Records, where he worked with Ed Ames, Al Hirt, Peter Nero, Marilyn Maye, Sergio Franchi, Miriam Makeba and the Norman Luboff Choir. During the 1960s he also produced a number of pop and country acts in Nashville, including Bobby Sykes, Les Paul and Mary Ford, the Ames Brothers and Al Hirt.
Foglesong moved to Nashville in 1970 to head Dot Records. Over the next 10 years, he worked with such artists as Roy Clark, Freddy Fender, Barbara Mandrell, Don Williams and the Oak Ridge Boys. After MCA acquired ABC/Dot in 1979, he took over MCA's country division, in charge of a roster of artists that included Loretta Lynn, Merle Haggard and Conway Twitty and to which he added George Strait and Reba McEntire, among others.
In 1984, Foglesong became president of Capitol Records' Nashville division. During his five years there, he oversaw the development of artists including Suzy Bogguss, Garth Brooks, the New Grass Revival, Marie Osmond, Sawyer Brown and Tanya Tucker.
Over his long and distinguished career, Foglesong chaired the boards of directors of the Country Music Association and the Country Music Foundation. He also served as a board member and president of the W. O. Smith Community Music School and as a board member of Leadership Music. In addition to teaching at Blair and Vanderbilt, Foglesong directed the music business program at Trevecca Nazarene University.