Acclaimed Nashville guitarist Dave MacKenzie joins the Blair School's faculty this fall with a new course for our adult students.
"Pre-World War II Blues Recordings: An Aural and Visual Survey" will explore early examples of the genre. Students will listen to 200-300 recordings made between 1920-1942, encompassing every major African-American style of blues, urban, and country music. All of the best-known artists and most influential songs will be included, along with record company catalogs, newspaper ads, and publicity photos used to promote the records. Musical analysis of the most important regional instrumental styles will be augmented with in-class demonstrations.
The class will discuss the rise of modern record companies and how emerging technological innovations and rapidly changing economic and social conditions affected these companies, their artists, and the music.
Course information
"Pre-World War II Blues Recordings: An Aural and Visual Survey" meets 7-8 p.m. Wednesdays in Room 1167 at the Blair School. The 15-week session starts August 21. Tuition is $225. To register, fill out and return the form with payment. For more information, contact Precollege & Adult Program Registrar Trisha Johns, (615) 322-7659.
About Dave MacKenzie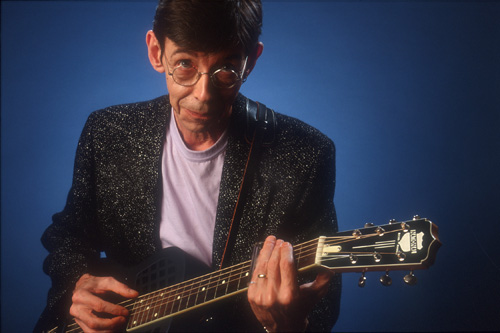 Dave MacKenzie was born in St. Louis and went to school in Iowa, Colorado, Germany and Mississippi before graduating high school back in St. Louis. Inspired both by Elvis and the folk boom of the '50s, he got his first guitar at age 10, first heard the blues (a Lightnin' Hopkins record from the local public library) at age 11, and played his first professional gig at age 13 at an NCO club in Germany.
Dave moved to Chicago in 1972 and began working in local clubs, eventually ending up in larger concert venues as the warm-up act for Muddy Waters, B.B. King, John Lee Hooker and dozens of other blues and rock 'n' roll headliners. "I had a great time in Chicago; I got to meet a lot of my musical heroes, I started playing out all over the country and having other people record my songs. Among the people who recorded one of my songs was David Soul (from Starsky & Hutch) who offered me a publishing contract as a staff songwriter, which is why I moved to L.A. in the winter of '79."
In addition to his songwriting activities in L.A. (his tunes were cut by Soul, David Bromberg, gospel greats Edwin & Tremaine Hawkins and the rock band Jackal. Dave continued to do club and concert appearances and began to work as a studio musician, which led to his becoming a music producer for radio and TV commercials and to writing scores for independent films.
Dave moved to Nashville in '89, where he immediately began getting work in clubs and as a session player. After starting his own label, Hey Baby! Records, in '93, Dave put out two CDs: Rats in my Bedroom and All New Slender Man Blues. They were both nominated for Nashville Music Awards and received excellent reviews in the US and Europe.
This led to his first European tour in '96. He has since returned every year to play major blues festivals such as Kiel (Germany), Utrecht (Holland) and Brugge (Belgium) as well as scores of concert & club dates and radio and TV appearances. He's been included in several European blues compilation CDs, and his most recent album, Old, New, Borrowed and Blue, was issued by the Dutch/Belgian label Black & Tan to universal critical praise in Europe and the U.S.
When not on tour, Dave continues to perform at Bourbon Street Blues & Boogie Bar in Nashville's famous (notorious) Printers Alley. Continuing his work as a songwriter, Dave's tunes have been recorded by James Armstrong, Microwave Dave, Maria Muldaur, blues legend Johnny Jones and dozens of local and regional blues bands. His work as a session player led to his appearance as a special guest on the platinum-selling Jeff Foxworthy album Crank it Up.
A two-time recipient of the Music City Blues Society's Acoustic Blues Act of the Year award, Dave regularly participates in their Blues in the Schools program and conducts demonstrations/lectures at the Country Music Hall of Fame on the history of metal-bodied dobros and early roots recordings.