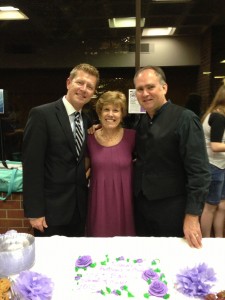 The Blair School of Music is pleased to announce Friends & Partners in Music, a new partnership with Nashville School of the Arts, Nashville's arts magnet public high school. With the 2013-14 school year, we begin a partnership of mutual support dedicated to enriching a quality music education for our children.
On September 16, representatives of the partner organizations gathered at the Blair School to celebrate the launch of this new initiative. Guest speakers included Blair School Dean Mark Wait; Pam Schneller, Associate Dean at Blair School of Music; Dr. Gregory Stewart, Executive Principal of Nashville School of the Arts; Dr. Nola Jones, Coordinator of Visual and Performing Arts, MNPS; and Laurie T. Schell, Director of Music Makes Us, MNPS.
Choirs from both institutions performed, including members of the Blair Symphonic Choir directed by Dr. Tucker Biddlecombe, Director of Choral Activities at Blair, and the NSA Madrigal Singers, directed by Walter Bitner, Director of Choral Studies at Nashville School of the Arts.