Composer Richard Danielpour debuts piano etudes at Blair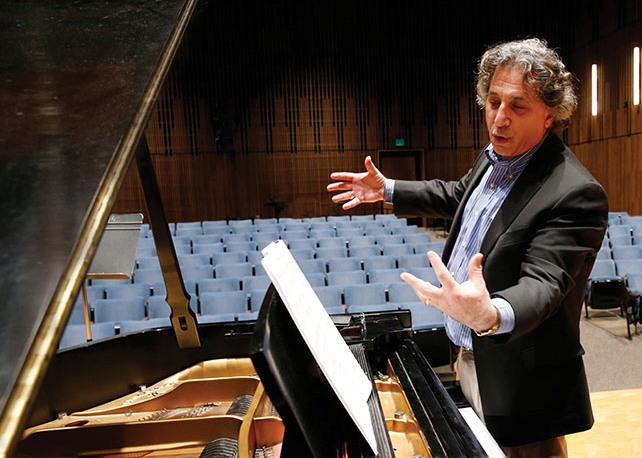 A piano etude dedicated to another musician can tell a lot about the honoree.
In the case of the C Major Etude by Richard Danielpour, the famed composer freely admits that the piece reflects great admiration for Mark Wait, the dean of Vanderbilt's Blair School of Music.
"He is an extraordinary man and leader of the Blair School of Music," Danielpour says. "Mark has a tremendously organized mind and a very deep expressive passion for music."
Danielpour, a New York native, is one of the most popular composers of his generation, mixing influences you might expect—composers such as Britten, Copland, Bernstein and Barber—with some you might not—The Beatles and Rolling Stones, poetry, visual art and even baseball.
"Modern classical music is very akin to baseball," he explains, citing the 1964 World Series Champion St. Louis Cardinals as a favorite. "Everything done in the present day is compared to past players."
The Blair School commissioned Danielpour to write 12 new piano etudes to be performed by Blair pianists Wait, Amy Dorfman and Craig Nies. Piano etudes usually offer a different musical challenge in each piece; they are both instructional and artful.
"The concept is about 300 years old," Danielpour says.
"Two sets of piano etudes—by Chopin and Debussy—are kind of the holy grail for me. They affected me very deeply as a young composer and pianist because they were not merely exercises, but complete musical works in their own right."
Piano Etudes by Richard Danielpour debuted Dec. 4 at The Martha Rivers Ingram Center for the Performing Arts at the Blair School, performed by Dorfman, Nies and Wait.
"It was a great pleasure to participate in the premiere of these marvelous piano works," Wait says. "Richard Danielpour is a leading American composer, and the Blair School is proud to have commissioned these important etudes."
One of Danielpour's etudes was centered around fast scales, while another was composed of full-sounding chords. Still another was played with the left hand on the keys and the right hand inside the piano plucking the strings. Each of the pieces was dedicated to a different pianist with whom Danielpour has been affiliated.
Besides Wait, Danielpour wrote one etude apiece for Dorfman and Nies, with others in the cycle dedicated to such artists as Leon Fleisher and Yefin Bronfman.
Danielpour has won a Grammy, a Lifetime Achievement Award and the Charles Ives Fellowship from the American Academy of Arts and Letters and many grants and residencies. He was only the third composer—after Stravinsky and Copland—to be signed to an exclusive recording contract by Sony Classical.
Even with all that success, Danielpour says he has found increasing satisfaction from his teaching in recent years.
"This was not always the case," he says. "But in the last 20 years of being a mentor for young artists, I've been able to feel very useful and consequently teaching has become a passion.
"I don't compartmentalize. It's all the same thing—extending yourself with the very best you have to bring to your life. Being a decent human being, a good teacher, a good composer—it's all the same to me.
"In the end, it's all about love."
—Jim Patterson