As Blair approaches its 50th anniversary, one faculty member has been there all the way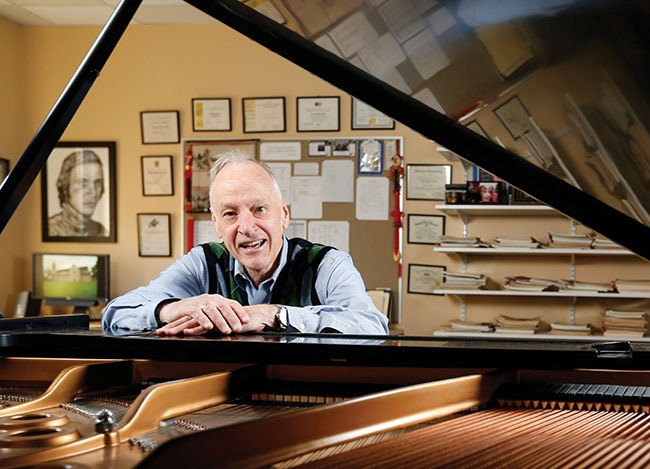 Roland Schneller is that rarest of individuals in the 21st-century American workforce—someone who has spent his entire career with one employer.
"After 50 years, there are still moments every day when I finish a lesson and think, 'Gosh, they're paying me to do this—what a privilege,'" he says.
As the Chancellor's Professor of Piano, Schneller is the only member of Blair's precollegiate faculty to hold an endowed chair. He is also co-chair of the keyboard department, senior artist teacher of piano, and coordinator of precollege scholarships.
Schneller was a 24-year-old graduate student at Indiana University in 1964 when he applied for a job teaching precollege piano at a newly opened school in Nashville called the Blair Academy of Music. Del Sawyer, Blair's first director and dean, hired Schneller as the school's first full-time faculty member.
Schneller helped Dean Sawyer build Blair's offerings into the first precollege program to be accredited by the National Association of Schools of Music. And as a teacher of classical piano, Schneller has seen plenty of other changes, even though the essential body of musical works he helps students master has remained more or less intact.
Gone are the days of marathon teaching and recitals on weekends. "Saturday used to be one of our most demanding work days—but today's students have so many other activities competing for their time," he says.
Schneller's own musical aptitude was nurtured from a young age. He has absolute, or "perfect," pitch and enjoyed playing and transposing music early on.
"In my mother's family, everyone had a piano," he recalls of his New Jersey childhood. "My mother would sometimes play simplified versions of recordings that I'd heard, and when she played in a different key than the recording, I'd tell her. When I was 5 years old, my father would punch out different chords and I would identify them to everyone's amazement," he says with a smile.
In 1988, Schneller married fellow faculty member Pamela Schneller. "My wife came to Blair as a choral conductor and flourished because of her work with not only the Blair Children's Chorus, but also the Vanderbilt University Concert Choir and Vanderbilt Community Chorus." he says. She is now associate dean of the Precollege and Adult Program and a senior lecturer in choral music.
After 50 years of teaching, he finds the excitement of his work still lies in nurturing new talent, which doesn't always manifest itself in the same way. When asked whether he usually can assess a young student's musical prospects in the space of a few lessons, Schneller is silent for a moment.
"I used to think I had the answer to that question," he says, "but the older I get, the more variable I think it is. Sometimes students who don't appear motivated at all in the beginning will present something totally different after a year or two. Many skills go into being a good musician. To hear, to see, to do—it's like developing an arsenal of skills."
—GayNelle Doll