Voice students at Blair benefit from the coaching expertise of collaborative pianists
Voice instruction at the Blair School of Music is now doubly enriched by the presence of two full-time vocal coaches/collaborative pianists who work exclusively with undergraduate voice majors. In addition, a master class in collaborative piano has been established to allow teams of student pianists and singers to work with master collaborative pianists.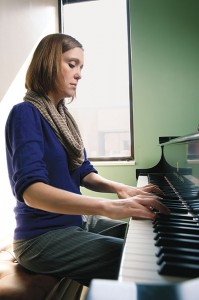 Jennifer McGuire, senior lecturer in collaborative piano, and Ben Harris, lecturer in vocal music, serve as collaborative pianists and vocal coaches at Blair. Both lend their input, ears and piano technique to support Blair's voice majors. Harris's position was created this year by the L. Michelson BMus'11 Fund for Excellence in Teaching and Performing. McGuire has been at Blair for six years, serving full time for the last three.
"It takes a unique skill set, and it's very fulfilling for me," McGuire says.
Blair's voice majors have three lessons each week: one with the voice teacher, one with the vocal coach/collaborative pianist, and one with both the teacher and the coach present.
With undergraduate students, McGuire and Harris try to establish a fundamental level of diction and knowledge of style. Using the International Phonetic Alphabet, they help students with French, German and Italian pronunciation, even if the students are unfamiliar with the spoken language. While vocal technique is the domain of the voice faculty, McGuire and Harris function as extra sets of ears.
"We take mental notes as we play for the students' lessons with their voice teachers," Harris says, "and later we may remind them of their teachers' instructions when they're having their individual coaching with us."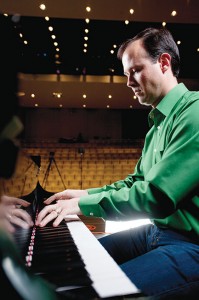 "Another part of our job is to work on interpretation and bounce ideas off each other," McGuire says. "We help the students make the music come alive by discussing the emotion and character of the piece."
"We work to approach it in a way that gives it relevance to the student, which is the first step toward its being relevant for the audience," Harris adds.
The Blair School's L. Michelson BMus'11 Fund for Collaborative Master Classes brings in master collaborative pianists to work with teams of student pianists and singers. In March, Ken Griffiths, professor of collaborative piano and director of Collaborative Piano Activities at the University of Cincinnati College-Conservatory of Music, came to Blair through the Michelson master class endowment.
"Each [student] team got to perform two pieces, a half hour each time, over a period of a couple of days," McGuire says. "It was a really intensive process."
The work with student singers and pianists is paying off.
"It's gratifying to be part of a program that gives undergraduate voice students an extra edge and prepares them for success as graduate students and young artists," McGuire says.
—Bonnie Arant Ertelt