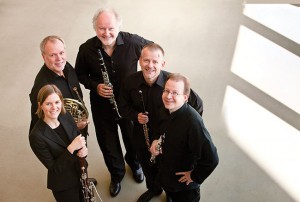 Blair's Newest Artists-in-Residence
In January, the Blair School of Music announced a partnership with the Berlin Philharmonic Wind Quintet as the school's newest artists-in-residence.
The world's most celebrated wind quintet has completed its original planned three-year residency at Blair, with highly successful and well-attended concerts and master classes in 2010–11, 2011–12 and 2012–13. This residency has been so popular and rewarding for both the artists and the school that the decision was made to formalize and extend the arrangement.
Mark Wait, dean of the Blair School, said, "The Berlin Philharmonic Wind Quintet has helped to transform the lives of our wind students through their master classes and concerts. We are thrilled and honored that they will continue to inspire our students and audiences in the years to come."
As artists-in-residence, the members of the Berlin Philharmonic Wind Quintet will perform and teach at the Blair School of Music or with Blair students at the Vanderbilt Music Académie in Aix-en-Provence for three or four days each year.
"At the Blair School, we have discovered an environment so respectful and supportive of music, as well as those young people who wish to explore music, that it may well be unique in the USA," said Berlin Philharmonic Wind Quintet French horn player Fergus McWilliams.
A Chinese Adventure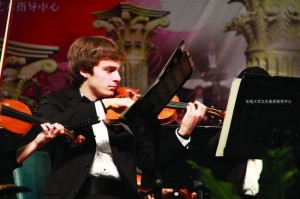 The Vanderbilt University Orchestra, under the direction of Robin Fountain, traveled to China over the winter holidays to present five concerts, starting in Shanghai and ending in Beijing. The group included current students and Blair alumni. After intense rehearsals at Blair between the end of the fall semester and Christmas Eve, the group traveled to Atlanta for the first of three flights to China. The group spent Christmas Day in a variety of airports, but finally made it to Shanghai with minimal delays.
Their selections included pieces by American composers Leonard Bernstein, John Williams and Aaron Copland, Chinese traditional songs, and favorite waltzes by Strauss, a fitting way to end concerts during a holiday concert tour.
"Our first two concerts were great successes, and we played to full houses in both Xingtai and Nanjing," wrote Caitlin Quinlan, a junior cello and Spanish major, in a blog written by students to keep parents and fans up to date during the trip. "In Nanjing, we played at East University, also to a packed house, and at both concerts people clapped along happily to our encore, the Radetzky March."
The students learned that international concert tours involve a lot of bus, train and air travel and very little sleep, but the experience was worth it.
"I cannot tell you how lucky I feel to be a part of this once-in-a-lifetime experience," wrote Sam Rhoades, a senior violin performance major at Blair. "I'm thrilled to share music with audiences literally halfway around the world from where I grew up!"
Music City Trio Wins Third Prize at MTNA Nationals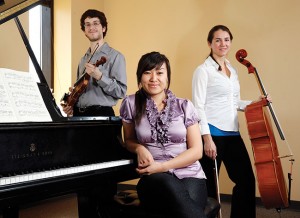 The Music City Trio, a piano trio featuring Nathan Lowry, violin, Jennifer Pittman, cello, and Susan Yang, piano, won third prize at the MTNA National Convention in Anaheim, Calif., in March. Coached by Amy Dorfman and John Kochanowski, the trio went to the national competition after finishing in first place in the Chamber Music String category at the annual Music Teachers National Association Southern Division finals held January 18–21 at the University of North Carolina-Greensboro.
Other Blair students who placed in the Southern Division finals included Ethan Bauer, violin student of Cornelia Heard, who was an alternate in the Young Artist Performance String category, and Chloe Harvel, violin student of Carolyn Huebl, who took an honorable mention in the Junior Performance String category.
Robots, Riots, and Music, Oh My!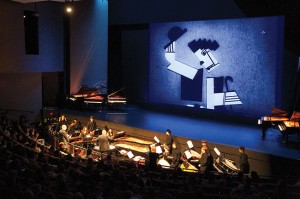 On April 7, the Blair School of Music's percussion ensemble VORTEX presented Ballet mécanique, composed in 1924 by American composer George Antheil. A musical treatise on the human becoming mechanical, the piece was so far ahead of its time that it could not be played as written until 1999, when computer software to synchronize the eight player pianos required for performance was created by Tufts University's Paul Lehrman. The Blair staging was only the sixth performance of the original orchestration, presented with the original version of Dudley Murphy and Fernand Léger's abstract film of the same name.
Musicians at Blair performed Antheil's 1953 arrangement in 2002, but that version was written in desperation, according to VORTEX Artistic Director Michael Holland. Antheil had created a piece for which the technology required did not exist.
"When Anthiel was creating [the 1953] arrangement," Holland said, "I think he was kind of throwing up his hands. By then he had been disgraced by the abominable performance at Carnegie Hall [in 1927], which was mishandled by the promoter who put it together.
"Antheil writes for the sound—and this is key—the sound of three propellers: a large and small wooden propeller and a metal propeller," Holland explains. "He didn't write for the propellers to be on stage. This promoter turned mécanique into an outrageous spectacle. He hung a garish 'jazz age' backdrop, smuggled an actual propeller onstage just before the concert, and he pointed it right at the musicians and into the audience. He turns it on, and music is flying off the stands. It's total chaos. A siren—never available in rehearsal—could not be controlled and screamed throughout Carnegie well after the piece was over."
Riots ensued after the 1927 Carnegie Hall premiere, but not at the April performance at Blair. An official delegation from the French government was present, including the honorary consul, the cultural attaché (who introduced the piece), the scientific attaché, and Arshia Cont, scientific leader of the MuTant Team Project in Paris, who spoke at a mini-symposium organized by Joy Calico, associate professor of musicology, the afternoon of the performance. The event also included a robotics exhibit on the plaza at Blair.