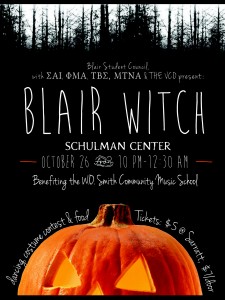 Haunted happenings are afoot at the Blair School. The Blair Witch is coming, and she's got her wand aimed your way!
The 10th annual Blair Witch party will take place Saturday, Oct. 26, in the Schulman Center, at the cornner of 25th Avenue and Vanderbilt Place, across from Memorial Gymnasium. Blair Witch is a Halloween-themed philanthropy event sponsored by the Blair Student Council that raises funds for the W.O. Smith Community Music School.
This year's anniversary event includes food, a costume contest and a dance floor. It's co-sponsored by Phi Mu Alpha, Sigma Alpha Iota, Tau Beta Sigma, Music Teachers National Association, and the Vanderbilt Commodore Orchestra.
Blair Witch takes place from 10 p.m.-12:30 a.m. Saturday, Oct. 26, in the Schulman Center.  Tickets are $5 in advance or $7 at the door, and can be purchased at Thursday student recitals at the Blair School in October (3 p.m. Thursdays in Steve & Judy Turner Recital Hall) or at the Sarratt Box Office.
Fundraising also takes place through the Blair Witch auction, which features two Blair students from each class and a sampling of Blair faculty.