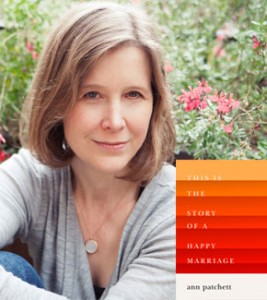 Acclaimed novelist and essayist Ann Patchett will speak at the Blair School at 6:15 p.m. on Monday, Nov. 4, as part of Nashville Public Library's Salon@615 series. Patchett will discuss her new memoir, This is the Story of a Happy Marriage.
Read The Tennessean's Oct. 27 profile of Patchett.
Nashville Mayor Karl Dean will introduce the event. He will also announce the title of the next book to be featured for Nashville Reads, the citywide reading project. The last Nashville Reads, which was held in March and April, focused on Yann Martel's Life of Pi.
Advance online tickets are no longer available, but a limited number of free tickets will be available in Ingram Lobby the day of the event. Event organizers recommend arriving early for the on-site ticket line.
About 'This is the Story of a Happy Marriage'
Blending literature and memoir, Ann Patchett, author of State of Wonder and Bel Canto, examines her deepest commitments: to writing, family, friends, dogs, books, and her husband in This is the Story of a Happy Marriage. Together these essays, previously published in The Atlantic, Harper's, Vogue, and the Washington Post, form a resonant portrait of a life lived with loyalty and with love.
This Is the Story of a Happy Marriage takes us into the very real world of Patchett's life. Stretching from her childhood to the present day, from a disastrous early marriage to a later happy one, it covers a multitude of topics, including relationships with family and friends, and charts the hard work and joy of writing, and the unexpected thrill of opening a bookstore.
About Ann Patchett
Ann Patchett is the author of six novels, The Patron Saint of Liars, Taft, The Magician's Assistant, Bel Canto, Run and State of Wonder, and three books of nonfiction, Truth & Beauty, What Now? and This is the Story of a Happy Marriage. She has been the recipient of numerous awards and fellowships, including England's Orange Prize, PEN/Faulkner Award, the Book Sense Book of the Year, The Governor's Award for Excellence in the Arts, and the American Bookseller's Association's "Most Engaging Author Award." Her books have been both New York Times Notable Books and New York Times bestsellers. Her work has been translated into more than thirty languages.
About Salon@615
Salon@615 presents bestselling authors free to the public through a unique partnership among Nashville Public Library, Parnassus Books, the Nashville Public Library Foundation, and Humanities Tennessee. Together, we nurture and celebrate the literary life of Nashville by presenting author talks and book signings to our community.
Since its inception in early 2011, Salon@615 has become a regular and vital author reading series on Nashville's cultural calendar.