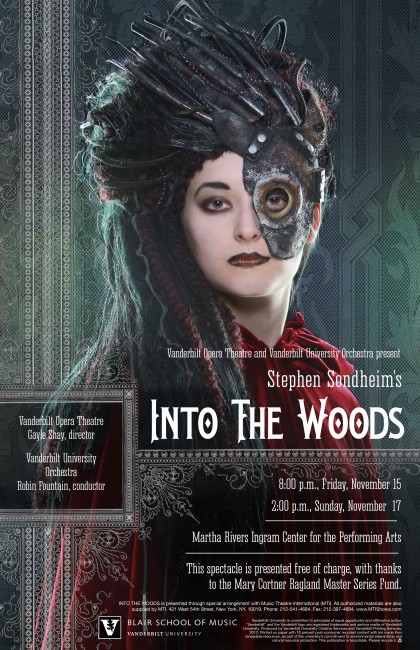 Vanderbilt Opera Theatre puts an offbeat spin on Stephen Sondheim and James Lapine's beloved, fairy-tale-inspired musical production, Into the Woods. Your favorite figures from childhood — Red Riding Hood, Cinderella, Rapunzel, Jack and the Beanstalk — undertake various quests to win their hearts' desire, then face the consequences of getting "everything they ever wanted."
Our production takes this fractured fairy story and warps it still further by giving it a steampunk setting. Sweet and sunny, this one is not. With Sondheim and Lapine's spectacular score and script, this is assuredly one you won't want to miss!
Performances of Into the Woods are at 8 p.m. Friday, November 15 and 2 p.m. Sunday, November 17, in Ingram Hall. Musicologist Jim Lovensheimer will give a pre-show talk about the production at 7:20 p.m. Friday, November 15, in Choral Rehearsal Hall. Priority seats will be reserved in Ingram Hall for people who attend the talk.
Sponsored by the Mary Cortner Ragland Master Series Fund