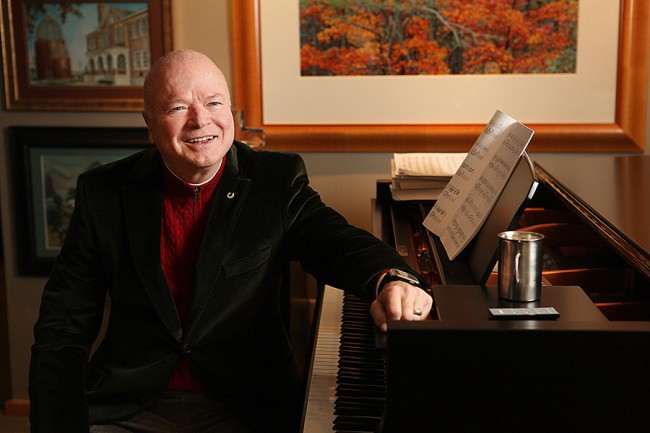 Cal Turner Jr. loves organ music.
And sure, lots of people enjoy listening to the organ. But how many of them have pipe organs in their own houses?
"I have to be the only husband in America who, without his wife's knowledge, installed a pipe organ in a new home!" the Nashville-based philanthropist says with a wry chuckle. "She was very generous in her acceptance of it, but can you imagine my nervousness when I said, 'Now, honey, when we go out to the house today, there is a surprise'?"
The Blair School of Music is the grateful beneficiary of Turner's longtime love of the pipe organ. It is thanks to a major gift from Turner and his sister, Laura Dugas, that Blair was able to install a magnificent new instrument in Steve & Judy Turner Recital Hall.
Turner and Dugas are giving the organ in honor of Cyrus Daniel, Vanderbilt University's organist from 1946-68 and a beloved figure in the school's history. The donation is on behalf of all of Daniel's former students — a group that includes Turner.
"My time in music at Vanderbilt was a rounding-out of my Vanderbilt life and experience," Turner explains. "It was different from the tedium of classes and study and so forth, and it was a real benefit to me, and Cyrus Daniel was a central part of that. It's wonderful to have an opportunity to contribute to Vanderbilt in a way that recognizes and honors Cyrus Daniel."
As well as studying organ with Daniel, Turner was a member of the Vanderbilt men's glee club and a cappella choir, both of which Daniel directed. "I remember his twinkle, and how music was fun," Turner says.
The new organ, which was constructed by Iowa-based Dobson Pipe Organ Builders, is unique in the Nashville area. It is constructed the style of 18th-century Central German organs similar to those Bach knew, and is therefore especially well-suited to Germanic organ music through the time of Mendelssohn.
It is also, unusually, a mechanical-action organ, meaning that there is a direct mechanical linkage from the organ key to the valve that it opens, allowing the organist to play with increased flexibility and subtlety of touch. (Most modern organs operate by electric action, where an electric current opens and shuts the valves.)
"The organist can control the speed that that valve opens, and the speed that it closes," explains Carl Smith, Senior Lecturer in Music Theory and Composition, Organ and Harpsichord. "It gives you 10 times the musical control, at least — control over aspects of playing that are essential to Baroque music."
That the new organ is a "Bach-style" organ is particularly significant for Turner, who struggled with the composer's works as a young organ student.
"I took organ lessons from Cyrus Daniel, and I'd practice in the basement of West End (United) Methodist Church," Turner remembers. "They had just a Hammond (electronic) organ down there, but I needed the keyboard and the pedals to practice Bach, whom I never quite understood.
"I remember playing for (Daniel) in a lesson, and I was struggling with this Bach piece. It seemed that both hands and more than both feet were at work. When I finished playing, he said, 'Well, Cal, that is … interesting. You don't necessarily play what Bach wrote, but it comes out all right.' I said, 'Where did I not play it right in there?' And he said, 'Well, I don't know. It's kind of all over the place.'"
Consequently, Turner is very interested in hearing the new Blair organ played in concert. "I want to hear someone play Bach who plays what Bach actually wrote!"
A new pipe organ is a major investment for and in the school. In announcing the gift to the Blair School faculty, Dean Mark Wait emphasized that this is a legacy instrument; something that will benefit Blair students and instructors for many decades to come.
That legacy is paramount for Turner, as well. "I just hope that there's always a rounding-out dimension at Vanderbilt, to help Vanderbilt not take itself too seriously," he says. "I think music is a good venue for that.
"Philanthropy is about being faithful and trying to serve others with your means. On the other side of that equation, there needs to be a faithful partner who carries out the ministry. I define 'ministry' broadly — I'm not talking about institutional. I'm talking about ministry to others; serving others. And I feel good about this being an enhancement of Vanderbilt's ministry. And I'm not talking about the 'churchy' stuff. I'm talking about the real stuff."
— Kristin Whittlesey, Vanderbilt University