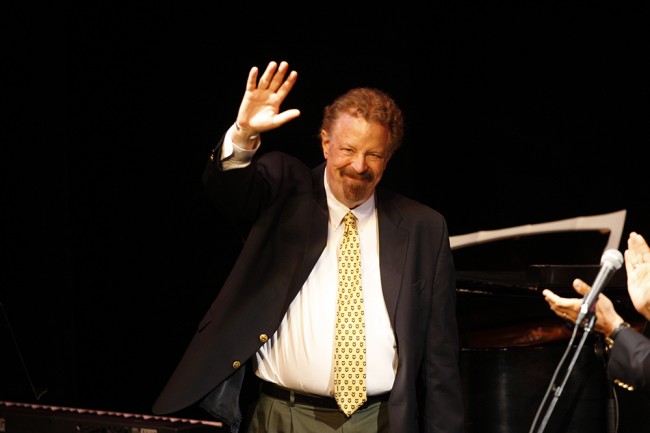 February 18, 2014
Media contacts:
Kristin Whittlesey (615) 322-7656
kristin.whittlesey@vanderbilt.edu
Jim Patterson, (615) 322-NEWS
jim.patterson@vanderbilt.edu
William "Billy" Adair, a teacher, arranger, multi-instrumentalist and backbone of the jazz program at Vanderbilt's Blair School of Music, has died. He was 66.
Adair, senior lecturer in jazz and director of the Big Band Program at Blair, died of cancer Feb. 18 at Vanderbilt University Medical Center.
His long career in the music industry included work with stars including Chet Atkins, Merle Haggard, Alabama, The Ink Spots, Greg Allman, the Oak Ridge Boys, Willie Nelson and many more.
"Billy had a deep, lasting effect on countless lives throughout the community," said Mark Wait, dean of the Blair School of Music. "He gave of himself generously and genuinely, and he had an amazing gift for bringing people together.
"What a privilege it was to know him. I can't think of a better example of a life well-lived."
Born in Franklin, Tenn., Adair studied history at Vanderbilt's Peabody College. Adept at electric and acoustic bass and guitar, he recorded and toured with many country music and rock 'n' roll stars in the 1970s. He branched out the following decade into producing, composing and arranging music for radio, television and commercials.
In 1998, Adair became the music director and arranger for The Establishment, a 22-piece non-profit jazz orchestra. In 2002, he began teaching at Blair, where he rose to department chair of Jazz and Folk Music.
"I'm a professional touring and studio musician in Nashville, and I couldn't be doing this if it wasn't for Bill," said Michael Rinne, a former student of Adair. "Billy taught me that you could have all the chops in the world and it didn't mean much.
"If you weren't a great person, you weren't a great musician."
Survivors include his wife of 38 years, Beegie Adair, a jazz pianist; brother Tommy Adair; and sister-in-law Kimberly Adair; all of Franklin.
A memorial service is being planned for the spring.
Memorial contributions may be made to the Billy Adair Fund for Jazz at the Blair School of Music, c/o Gift Processing, PMB 407727, 2301 Vanderbilt Place, Nashville, TN 37240-7727.