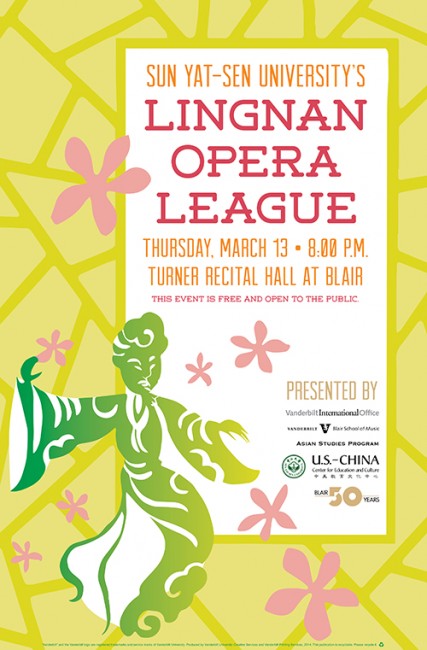 A 10-member delegation from the Lingnan Student Opera League at Sun Yat-Sen University will visit Vanderbilt as a part of the "Opera Exchange" sponsored by Vanderbilt's U.S.-China Center for Education and Culture. Since 2007, and especially since the establishment of the U.S.-China Center, Vanderbilt and SYSU have actively sought opportunities to create more learning exchange opportunities for faculty and students.
Led by Professor Baocheng Kang, a nationally renowned scholar in Chinese traditional theater and the director of SYSU's National Center of Intangible Cultural Heritage, the Lingnan Opera League will visit Vanderbilt from March 10-14, 2014. Hosted by Vanderbilt's Blair School of Music and the Asian Studies Program at the College of Arts and Science, the Lingnan Opera League will participate in events that include comparative lectures, workshops, and discussions on the history, theater lyrics, and performing techniques of western Opera and Chinese Opera throughout the week of March 10, with a culminating public performance at Turner Recital Hall for the greater Vanderbilt and Nashville community on March 13, 2014.
Sun Yat-Sen University, one of the top-ranked research universities in China, is located in Guangzhou, the provincial capital of Guangdong Province. Established in 2004, the Lingnan Opera League at Sun Yat-Sen University is the only college student opera league in the Southeast Region of China. Through offering elective courses on Chinese Opera and weekly coaching sessions on singing and gesture techniques, the League has trained over 300 beginner-level opera performers and educated over 7000 students since its inception. TV and news media have had multiple stories and reports on the Lingnan Opera League, making it a nationally renowned organization.
The Lingnan Opera League has frequented large-scale events on and off campus, domestically and internationally, demonstrating outstanding performances at the national Chinese Opera competitions for amateurs with many top prizes. In 2011, the League was invited by the Chinese Language Bureau of the Ministry of Education to perform at universities in France. In December 2012, the League made its stage debut of the unabridged version of one the most famous Chinese operas, The Unicorn Purse (Suo Lin Nang in Chinese). This performance enjoyed great success and was a hit with all sectors of the audience. In June 2013, the League was invited by the Guangzhou Friendship Theater to put on anther performance of the unabridged version of The Unicorn Purse, an unprecedented opportunity for an amateur theater troupe in the Chinese university opera performance history.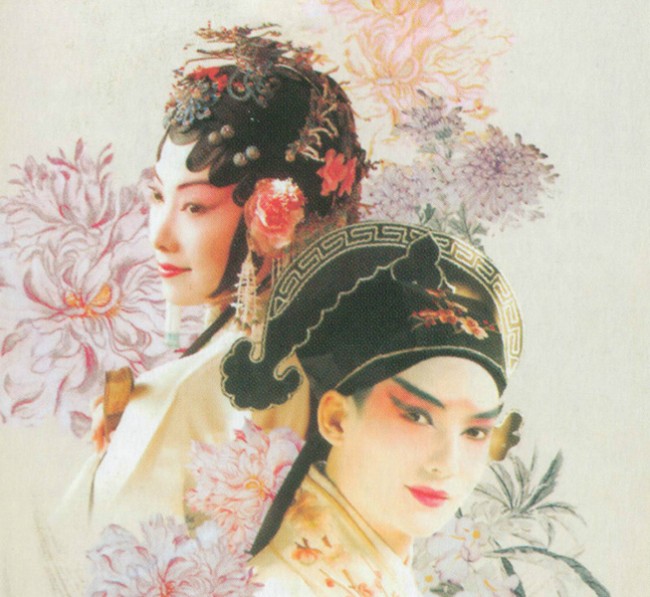 Chinese opera, one of the best representative forms of Chinese intangible cultural heritage, has been loved by audiences throughout China and the world ever since its emergence 200 years ago, owing to its elegant characters and luxuriant make-up, as well as exquisite singing and gesture techniques. However, as a performance art, Chinese opera is extremely difficult to master, especially for university students without performing experience or professional training. After nearly a decade of unrelenting efforts and determination by its instructors and students, the Lingnan Opera League has become a highly recognized performing group among its peers in China. Young performers and Chinese opera lovers trained by the Lingnan Opera League are now emerging in many parts of the country and making contributions to the preservation of this traditional Chinese art form and carrying this fine performance heritage forward.
"We are very excited about this unique learning exchange opportunity for our faculty and students," says Blair School professor Joy Calico, who visited Guangzhou in November 2013 and gave a talk on western opera at Sun Yat-Sen University.
"Western operatic repertoire is constantly changing and adapting to the sociological and political culture in which it is performed," says Blair School professor and Vanderbilt Opera Theatre director Gayle Shay. "For those of us immersed in that particular repertoire to have the chance to interact with artists who are working diligently to sustain an art form with similar deep cultural relevance will be invaluable. I anticipate our conversations will give us all an important understanding of how we are all connected through our common theatrical traditions."