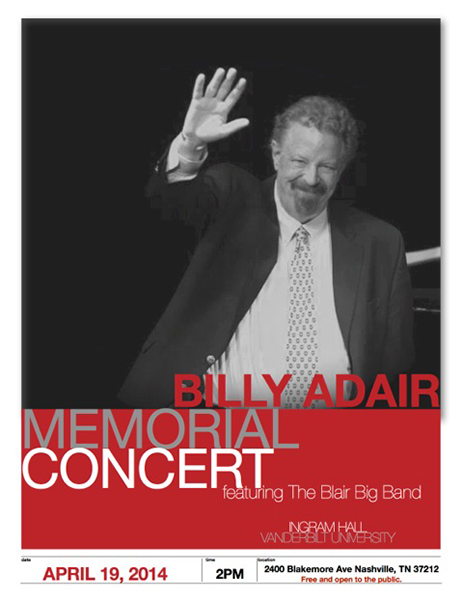 On February 18, the Blair School lost our beloved Big Band director and jazz instructor Billy Adair. Adair's impact and influence on our students, faculty and community can not be overstated. He was mentor and musician, faculty and friend.
In celebration of Adair's life, a special tribute concert has been planned for 2 p.m. Saturday, April 19, featuring the Blair Big Band, along with performances and reminiscences from friends, family and faculty.
In addition, previously planned concerts by the Blair Big Band on April 10 and the Nashville Jazz Orchestra on April 27 will also be performed in Adair's honor.
The Blair Big Band, the ensemble Adair directed with aplomb since 2002, will perform a program spotlighting Adair's own musical arrangements. Caitlin Quinlan, Laney Keeshin and Catey Boulay will be the featured vocalists, led by interim director Brent Baker. The concert takes place at 8 p.m. April 10 in Ingram Hall.
The Nashville Jazz Orchestra pays tribute to Adair with a program of the music he loved best. "As Billy valued the basics and the roots of big band jazz, the Great American Songbook will be at the center of NJO's tribute to its closest friend," said NJO director Jim Williamson. "Billy taught the standards, arranged them for big band with vocal and instilled in his band members and singers a love and appreciation for an era of music that will always be the cornerstone of jazz and pop music." Guest performers, all of whom studied under Adair, include Sarah Edmonds, Liz Johnson, Molly Jewell, Sarah Williams and Matt Belsante. (Please note: The start time for the NJO concert on April 27 has changed. That performance will begin at 6 p.m. in Ingram Hall.)
Memorial contributions may be made to the Billy Adair Fund for Jazz at the Blair School of Music, c/o Gift Processing, PMB 407727, 2301 Vanderbilt Place, Nashville, TN 37240-7727.