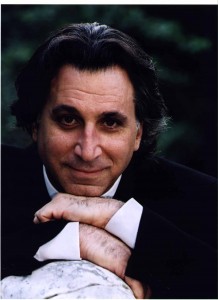 The final concert in Blair's Living Sounds series has a twist this year.
Living Sounds is an annual three-concert series showcasing the work of Blair's student composers, performed by their fellow students. It's always an engaging and wide-ranging exploration of contemporary composition.
Acclaimed contemporary composer Richard Danielpour has been in residence at Blair all semester, working with our composition majors on pieces for this final Living Sounds program. Danielpour selected a poem, "Divan 943," by Jalàluddin Rumi. Working with Danielpour, 13 composition majors have spent the semester creating settings of the poem for voice and piano. On April 9, these pieces will be performed in concert by Blair voice majors.
Composers and performers
Jon O'Hara, composer; Paige Stinnett, soprano; Ben Harris, piano
Alex Commanday, composer; Carl Hellmers, tenor; Ben Harris, piano
Christine Hawn, composer; Mark Margaret Kelly, soprano; Ben Harris, piano
Matt Rafferty, composer; Sydel Fisher, soprano; Ben Harris, piano
Riley Crabtree, composer; Madeleine Laird, soprano; Ben Harris, piano
Steven Sloan, composer; Benjamin Kahan, baritone; Ben Harris, piano
Jack Coen, composer; Danielle Bavli, soprano; Jennifer McGuire, piano
Carson Graham, composer; Lindsey Mullen, soprano; Jennifer McGuire, piano
Amy Thompson, composer; Kelby Carlson, tenor; Jennifer McGuire, piano
Jasper Brey, composer; Maria Servodidio, soprano; Jennifer McGuire, piano
Alyze Rabideau, composer; Melissa Gramling, soprano; Jennifer McGuire, piano
Elena Avalos-Bock, composer; Charles Calotta, baritone; Jennifer McGuire, piano
Sean William Calhoun, composer; Sofie Christensen, soprano; Jennifer McGuire, piano