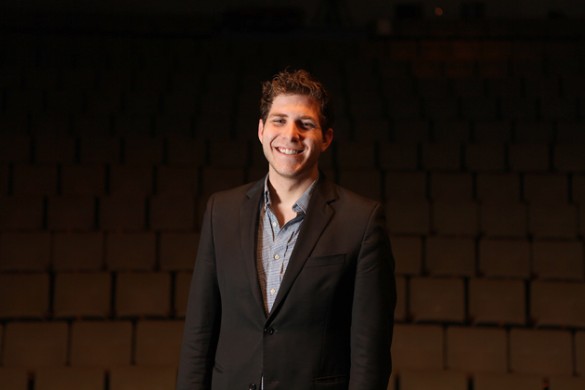 The Office of Honor Scholarships is pleased to announce that DeLesslin "Roo" George-Warren, a Class of 2014 voice and music composition major at Blair School of Music, is one of 40 students in the nation to be selected for the 2014 Humanity in Action Fellowship.
As a student at Vanderbilt, George-Warren studied abroad in Berlin, served on the executive board of the AmbassaDores, and was a two-time site-leader for Alternative Spring Break, among other activities. His primary research interest lies in indigenous communities throughout the world, and how media, art and policy either promote sovereignty or continue legacies of colonization.
The Humanity in Action Fellowship brings together international groups of students and recent graduates to explore different national histories of discrimination and resistance to injustice, as well as examples of contemporary issues affecting minority groups. The objective of the program is to promote dialogue about understanding and respond to the challenges that democratic countries face as they become more diverse societies.
The 2014 fellows will participate in an orientation workshop focusing on American civil rights, Holocaust education and European security and political issues at the Council on Foreign Relations and the United States Holocaust Museum in Washington, D.C. Following this, they will travel to Amsterdam to join fellows from Bosnia and Herzegovina, Denmark, France, Germany, Greece, the Netherlands, Poland, Turkey and Ukraine to participate in lectures, visits and discussions with renowned academics, journalists, politicians, activists and government agency and community leaders in Amsterdam, Berlin, Copenhagen, Paris and Warsaw from May 26 to June 29, 2014.
The fellowship will end with a Humanity in Action International Conference in the border region between Germany and Denmark, where they will focus on the treatment and status of minorities in border regions in Europe and around the world.
Contact: Lyn Fulton-John, 615-322-6329
lyn.fulton-john@vanderbilt.edu