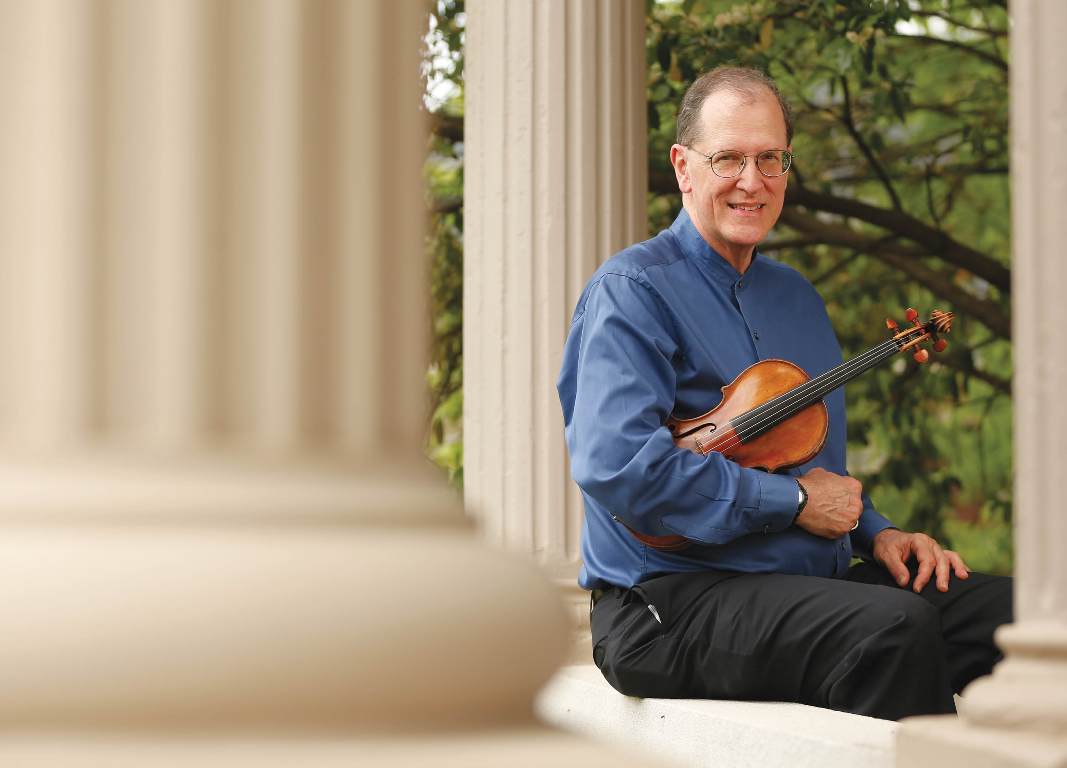 As the Blair School of Music celebrates its 50th anniversary, one who has been a steady presence since Blair's days on 18th Avenue South will be saying goodbye. Christian Teal, Joseph Joachim Professor of Violin and member of the Blair String Quartet, will retire at the end of the academic year after forty-two years of teaching and performing.
"Forty-two years sounds like a long time," Teal says. "Sometimes it seems like yesterday, but then I think of the development of Blair and realize how much things have changed."
Teal came to Blair in 1972 when Stephen Clapp accepted a position at the University of Texas at Austin. It was Teal's first full-time job. After finishing his military service with the Army Strings while simultaneously earning a master's degree in music from Catholic University of America, he took Clapp's teaching studio at the top of the stairs in the 18th Avenue South building.
"[Teaching] was kind of a shock," Teal says. "Having sixteen students seemed like having a million students."
Playing was less of a stretch in the early days. Teal, who describes himself as a late starter on violin, began playing the instrument at age 10 in his Richmond, Virginia, public school, but quickly progressed. At 13, he auditioned for the Richmond Symphony and played five seasons before starting college, becoming assistant principal second violinist, watching and absorbing everything while sitting in the middle of the front row.
"When there were soloists like Isaac Stern who came to play with the orchestra, I really enjoyed being that close to them as they performed," he says.
He continued playing in larger ensembles—as concertmaster of the Catholic University Orchestra while in graduate school and during his time with the Army Strings playing state dinners and events for political dignitaries—but chamber music has been his true love.
"Orchestras are great, but you're trying to discern the will of the conductor and fit into the section," he says. "In a chamber group, you're making all the musical decisions, so all the responsibility, all the quality and colors of the sound are up to you."
Teal credits Cornelia Heard's addition to the Blair String Quartet as one of the reasons the quartet has grown so much. "She's such an important musical force and dedicated to her art," Teal says. "And with Kathryn Plummer [violist with the quartet from 1974 to 1987 who remains at Blair as a professor of viola] and Grace Bahng [cellist with the group from 1984 to 1999], we hit a new level of national exposure and recording."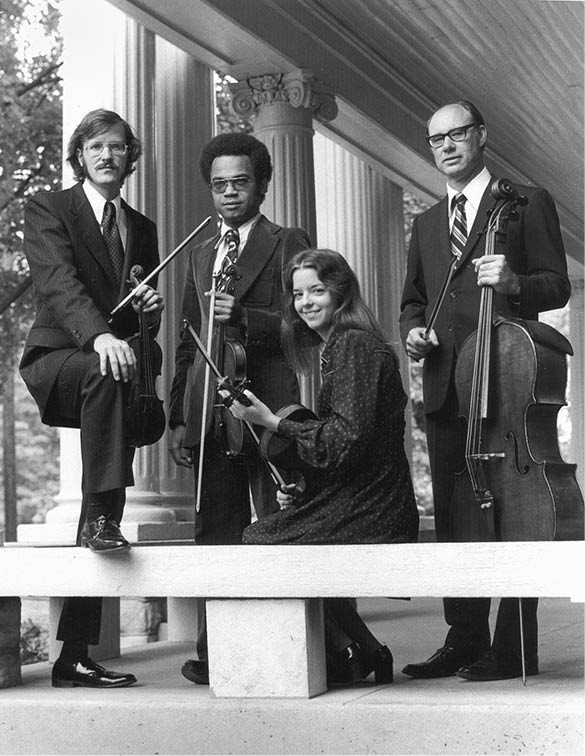 During his forty-two years with the Blair String Quartet, the group has played regionally and nationally, including concerts at the Kennedy Center and in New York City at Carnegie Hall, Merkin Concert Hall, and the 92nd Street Y.
The more Teal performed, not surprisingly, the more performing informed his own teaching. What was a new experience in 1972 is now something at which he is an established master.
"Performance experience really feeds your knowledge for teaching," Teal says. "To express to the student what is wrong, what is a better way [to express the music], what's more moving to the listener, you start to ask yourself, how do I do it? What are the things that make the music communicate? What do I add that will make the student better?"
Teal learned from prestigious master teachers including Josef Gingold (concertmaster of the Cleveland Symphony under George Szell) at Indiana University during his undergraduate days and Dorothy DeLay (master teacher of violin at Juilliard), with whom he studied on weekends while completing his master's degree. Teal's expertise in playing and teaching, and his master teachers' influence, have been passed down to students at Blair.
"It is hard work, [playing in] the quartet and teaching—it's not for sissies," Teal says. "One of the blessings of Blair is that the string faculty teaches college students, but also the most talented precollege students. In terms of scheduling the day, you can teach some of your college students in the morning between their classes, but the precollege students have to be scheduled in the late afternoon [after school].
"The reward is truly great students who have gone on to great musical careers," he says.
Teal's students remember his generosity with time and expertise, and many stay in touch long after they leave Blair. They and other Blair violin alumni also recently established an award named for Teal. As he prepares to settle in the Boston area, he already has been in touch with many former students who are eager to help him "integrate into the musical fabric of the area." Teal insists that sense of generosity is present throughout Blair's faculty and is part of what he will miss most.
"All the members of the faculty at Blair are incredibly dedicated teachers," he says. "It's been an incredible group of people to be connected with. The attitude and atmosphere here have been part of what's so good about Blair."
—Bonnie Arant Ertelt