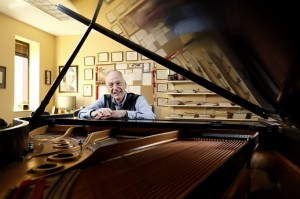 To help him celebrate more than 50 years of teaching at the Blair School of Music, current and former piano students of Roland Schneller will perform in concert in his honor. All of these artists were once precollege students at Blair Academy/Blair School of Music.
The concert takes place at 7:30 p.m. Saturday, September 13, in Blair's Ingram Hall. Performers for this special evening include:
Dr. Jerome Reed, now Professor of Piano at Lipscomb University
Roger Wiesmeyer, Nashville Symphony Orchestra (English Horn) and Blair Adjunct Associate Professor of Oboe
Dr. Grace Huang, Piano Faculty Chair, Secondary Piano Department, Cleveland Institute of Music
Dr. Jim Helton, Associate Professor of Piano, Ball State University
And two current piano students:
Rebecca Rousseau, high school senior (2014-2015)
Joanne Kang, age 10, grade 5 (2014-2015)
A reception in Ingram Lobby will follow the performance.
Presented with gratitude to the Valere Blair Potter Trust for its generous support of the Blair School.