7:30 p.m. Friday, November 14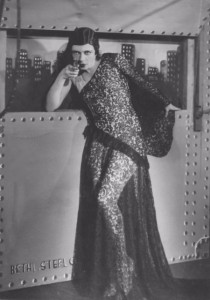 2 p.m. Sunday, November 16
Ingram Hall
Vanderbilt Opera Theatre and Vanderbilt University Orchestra present Die Fledermaus, Johann Strauss' delightful sacher torte dropped in the decadent chocolate box of 1920s Berlin. Nightclubs, dancing girls, mistaken identities, and jilted lovers, all served up by the king of waltz.
At 6:30 p.m. Friday, Nov. 14, musicologist Joy Calico will give a pre-performance presentation about the production. What do you get when you set a comic 19th-century operetta in the Berlin of 1929? Join Calico before the performance to find out! We'll discuss Johann Strauss II's beloved Die Fledermaus, the sociocultural context of the Weimar Republic as the National Socialists come to the fore (think Christopher Isherwood's Cabaret), and the heady audience experience that results from combining the two in a single performance. Chacun à son goût?
Premium seats will be reserved in Ingram Hall for patrons who attend the talk.
Sponsored by the Mary Cortner Ragland Master Series Fund