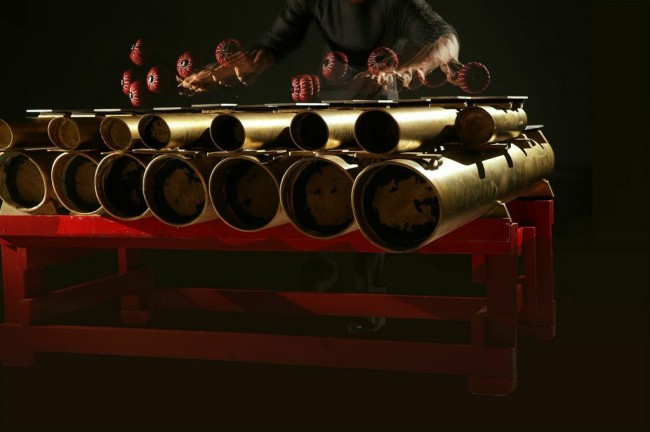 VORTEX percussion
Michael Holland, artistic director
VORTEX and the American Gamelan
With New Dialect
Sunday, March 15
Noon: Documentary film: LOU HARRISON: A World of Music, Portrait of a great composer who followed his own dreams. Trading a fast-paced New York career for a cabin in the woods, Harrison embraced "world music" before the term was invented, Choral Hall
1:30 p.m.: Break: Coffee and fresh-from-the-oven cookies!
2 p.m.: Not sure what a gamelan is? See and hear the American Gamelan in a rare and up close setting with John Pennington, Choral Hall
2:45 p.m.: Informal concert with Cyprian Consiglio and John Pennington, featuring hand percussion, guitar and vocal music from the traditions of the Camaldolese monks, Choral Hall
6:45 p.m.: MusiCircus for Henry Cowell and Lou Harrison. Enter the imaginative world of Cowell and Harrison in an interactive exploration of sound and movement. This MusiCircus is a menagerie of sounds from West Africa, Brazil, China, Japan, India, America, and much more. Created in the festive spirit of John Cage, "You won't hear a thing. You'll hear everything!" Fun for the whole family! Ingram Lobby and Plaza.
8 p.m.: VORTEX concert (recommended minimum age: 5), Ingram Hall
Celebrating the world music legacy of Henry Cowell and Lou Harrison. East meets West in an orchestra built entirely of shimmering, ethereal metal. "The most beautiful instrument on the planet," according to Lou Harrison.
Experience the beauty of the American Gamelan after its 900-mile journey to Nashville. See and hear this unforgettable orchestra of metal — one of only four in the world — and explore the cultural frontiers opened by Cowell and Harrison. Rare archival photographs, audio clips and historic film footage let Cowell and Harrison speak to you as VORTEX presents the Southeastern U.S. debut of the American Gamelan.
Violinist Carolyn Huebl performs Harrison's Suite for Violin and American Gamelan, and composer John Pennington leads the Tennessee premiere of his new work Gitanjali, with soloist Cyprian Consiglio.
VORTEX. It's never what you expect.
The Blair School thanks the Hutton Hotel for generously providing accommodations for John Pennington and Cyprian Consiglio.
Watch the trailer for 'LOU HARRISON: A World of Music'
LOU HARRISON: A World of Music (a film by Eva Soltes) ~ Film Trailer from Eva Soltes on Vimeo.
Support for this concert was provided by: Mark Wait, Dean, Blair School of Music; Frank Wcislo, Dean of The Ingram Commons; Andrea George, Director, Sustain VU; a 2015 Curb Creative Campus Innovation Grant; Emilie Townes, Dean of the School of Divinity; Vanderbilt Student Government; Vanessa Beasley, Director, Program in America Studies; Tamara Cecala, Director, The Kefi Project; and Chris Purcell, Director, Office of LGBTQI at the Potter Center.