NIGHTCAP CONCERT SERIES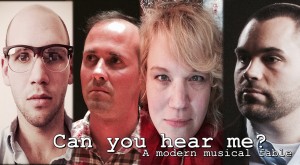 Ben Harris, piano, Preston Orr, baritone, Gayle Shay, mezzo-soprano, and Jeremy Wilson, trombone
Tuesday, February 10
8 p.m., Steve & Judy Turner Recital Hall
Can you hear me? A Modern Musical Fable
June has a problem. After 11 years of marriage, she thought she understood her husband perfectly. And then, one morning, that all changed.
An original lyric theater piece incorporating popular song, art song, spoken dialogue, trombone and piano, as performed by Ben Harris (piano), Preston Orr (baritone), Gayle Shay (mezzo soprano), and Jeremy Wilson (trombone).
Rena Sharon, professor of collaborative piano at the University of British Columbia and artistic director of the Vancouver International Song Institute, will give a pre-concert lecture at 8 p.m.