SCHEDULE UPDATE: This concert was originally scheduled for Feb. 16, but was postponed due to severe winter weather.
FACULTY RECITAL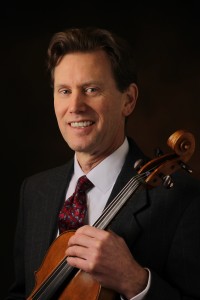 Daniel Reinker, viola
with Francis Perry, theorbo, Jim Lovensheimer, reader, Jared Hauser, oboe, Keith Nicholas, cello, Melissa Rose, piano, and William G. Wiggins, percussion
Sunday, March 1
7:30 p.m., Steve & Judy Turner Recital Hall
Violist Reinker presents a program showcasing the breadth and diversity of which the viola is capable. William Flackton's Sonata for Viola and Basso Continuo is one of the earliest known works written for viola. Charles Loeffler's Two Rhapsodies for Oboe, Violin and Piano were inspired by "The Pond" and "The Bagpipe," a pair of poems by Maurice Rollinat. And Michael Colgrass' Variations for Four Drums and Viola, written in 1959 for viola and four tunable drums, is a virtuosic piece for both players.