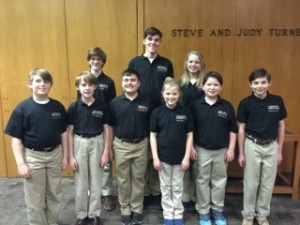 Eight members of the Blair Children's Chorus program went to Salt Lake City in late February to sing in the National Honor Choirs of the American Choral Directors Association's National Conference.
Blair's singers were selected from more than 3,000 students from all over the United States who submitted auditions to sing in the honors choirs.
Blair Children's Chorus students Will Growdon, Graham Jackson, Brett Miller, Don Pierce, Garrett Scott, Ben Strobel, Jennie Mae Sprouse, Rebecca Sullivant and Sergei Wright traveled to Salt Lake City February 25-28 to sing under the batons of prominent choral directors Bob Chilcott, Elena Sharkova and André Thomas. They will sing three performances at the end of the process, including one with the world-renowned Mormon Tabernacle Choir.