State of the Word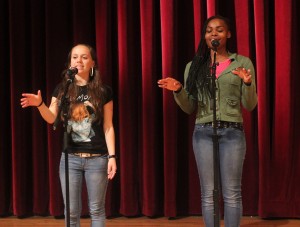 Saturday, December 6
7 p.m., Ingram Hall
TICKETED EVENT
The Blair School of Music and the Nashville Public Library welcome the Seventh Annual State of the Word, featuring the region's top college and high school writers, poets, emcees and spoken-word artists.
On this evening, the Office of Mayor Karl Dean, Metro Nashville Arts Commission, Southern Word, and the Nashville Public Library will select Nashville's first Youth Poet Laureate, with remote judging assistance from former U.S. Poet Laureate Billy Collins. Mayor Dean will introduce the evening at 7 p.m. The event will also feature the winner of the first STEM Poetry Slam in collaboration with the Middle Tennessee STEM Innovation Hub.
The event is a collaboration between Vandy Spoken Word and Southern Word. Vandy Spoken Word is Vanderbilt's spoken word group which promotes self-expression, challenges prejudices, and gives voice to diverse perspectives. Southern Word is a nonprofit youth development organization building a culture of literacy through spoken word residencies, workshops, and shows.
Performers emerge from Southern Word's programs sponsored by the Nashville Public Library, Nashville Public Library Foundation, Metro Nashville Public Schools, Metro Nashville Arts Commission, Memorial Foundation, Humanities Tennessee, Dan and Margaret Maddox Charitable Foundation, and the Tennessee Arts Commission.
The event is made possible through the generous support of the Blair School of Music, Commons at Vanderbilt, and the Vanderbilt Writing Studio. Proceeds go to benefit Southern Word and the placement of poet mentors in Middle Tennessee's public schools.
Tickets: $10 general admission, $3 students with ID, available through southernword.org.