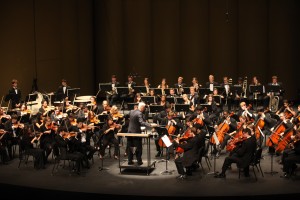 Saturday, January 24
7:15 p.m. Pre-concert talk by Joy Calico, Choral Hall
8 p.m. Concert, Ingram Hall
Vanderbilt University Orchestra
Robin Fountain, conductor
and
Vanderbilt Wind Symphony
Thomas Verrier, conductor
The Vanderbilt Orchestra performs Claude Debussy's Fêtes, from Nocturnes; Arnold Schoenberg's A Survivor From Warsaw, performed with the men of the Vanderbilt Symphonic Choir and with narration by musicologist Jim Lovensheimer; and Gustav Mahler's Adagio from Symphony No. 10.
Before the concert, musicology professor Joy Calico will discuss the Debussy, Schoenberg and Mahler pieces to be performed by the orchestra, at 7:15 p.m. in Choral Hall.
The Wind Symphony, meanwhile, performs a program titled "Monuments" that includes the world premiere of Michaek Kurek's Monument, guest conducted by Vanderbilt's Director of University Bands Dwayne Sagen. Other works include Gordon Jacob's An Original Suite, Wagner/Cailliet's Elsa's Procession to the Cathedral, and John Mackey's Strange Humors.
Presented with gratitude to Inka and Richard Odom for their generous support of the Blair School