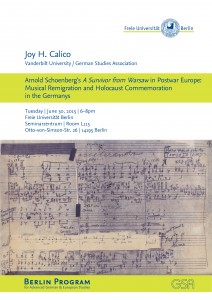 Joy H. Calico, professor of musicology and European studies and director of the Max Kade Center for European and German Studies, has been invited to deliver the German Studies Association/Berlin Program Distinguished Lecture at the Freie Universität in Berlin, Germany, on June 30.
Calico's lecture will examines the cultural history of postwar Europe through the lens of the performance and reception of Arnold Schoenberg's A Survivor from Warsaw — a short but powerful work that irritated every exposed nerve in postwar Europe.
Schoenberg, an Austrian Jewish composer whose oeuvre had been the Nazis' prime exemplar of "degenerate music," immigrated to the United States and became an American citizen. Both admired and reviled as a pioneer of modernist music, he wrote this 12-tone piece about the Holocaust in three languages for an American audience.
Calico's talk, drawn from her 2014 book, Arnold Schoenberg's 'A Survivor from Warsaw' in Postwar Europe, will investigate the meanings attached to the work as it circulated through Europe during the early Cold War in a kind of symbolic musical remigration, focusing particularly on micro-histories in West and East Germany.