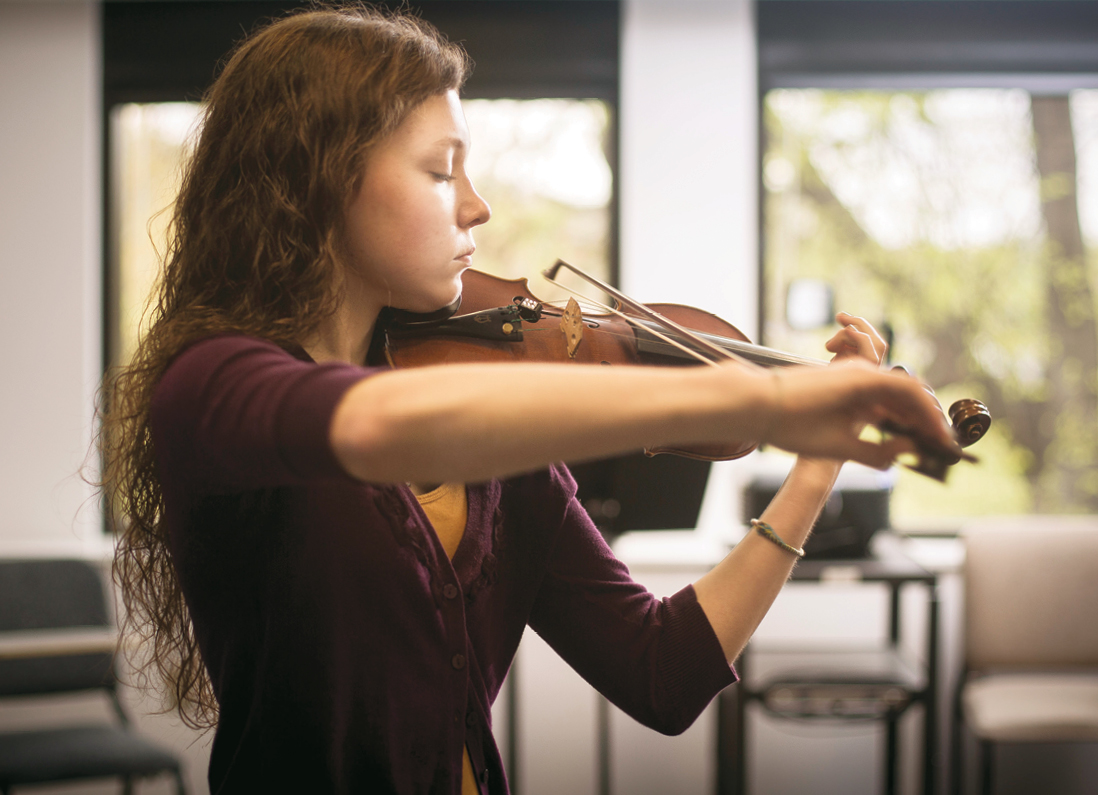 Most undergraduate students don't have much contact with younger or older learners during their college years. They inhabit a sort of educational island populated exclusively by 18- to 22-year-olds. Not so at Blair, where undergrads share space daily with music students of all ages.
"We don't have any walls between our precollege and college programs," says Pam Schneller, associate dean for Blair's precollege and adult program. "At any given moment you'll find little tiny cello cases on the floor and kids headed to their lessons along with college students and adults." It makes for "a whole community of music learners," in Schneller's words, and this intergenerational approach to education offers important benefits to all.
Although precollege and adult learners at Blair do most of their studies separately from the undergraduates, there are often opportunities for them to work with college students and faculty.
"One of the unusual things about Blair," notes Connie Heard, Valere Blair Potter Professor of Violin and chair of the strings department, "is that most of us who teach undergraduate majors also enjoy teaching talented precollege students, and these might be of any age." Heard once taught a highly gifted child who was already playing Mozart concertos at age 7, an experience she recalls with pleasure. "I don't usually teach 7-year-olds," she says, "but she was so talented and so hardworking that it was an inspiring investment of my time."
Highly talented precollege students are sometimes invited to join college music majors at weekly studio classes where the students perform and offer critiques. Also, faculty members hold recitals each semester that include their college and precollege students on the same program. These encounters give the younger students a chance to hear the repertoire their older counterparts are mastering, which can help fuel their own ambition and development.
That motivating influence can operate in the other direction, too. Heard believes that the older students may be spurred to work harder thanks to the presence of very serious, gifted youngsters, many of whom will go on to some of the best music schools in the country.
"Sometimes precollege students are major talents, and they might even intimidate the college students a little bit," she says.
Jenna Mangum, a 17-year-old precollege student who has participated in Heard's studio classes for more than four years, concedes that she has felt occasional resentment from the older students, but it is far outweighed by the encouragement and helpful example they provide. If she hadn't been thrown in with the undergrads, she says, "I wouldn't have wanted to bring myself up to their level and show that I can do it." Jenna's mother, Liz, who has enrolled all five of her children in Blair's precollege program, says her daughter has grown more confident during her years in the studio class, and she agrees that any tension has been negligible compared to the encouragement Jenna has received.
"The good outweighed the bad," she says, and notes that she enjoys hearing the older students' comments on Jenna's playing.
Adult students occasionally take advantage of college offerings, too. Ryan Middagh, lecturer and program director for jazz studies, says an adult student currently taking his jazz theory class brings a wealth of musical experience as well as knowledge of bluesy Memphis jazz, a style with which the younger students are less familiar. The undergraduates, in turn, bring their enthusiasm for current trends in the genre. Middagh regards the intergenerational encounter as "an opportunity for the college students, the adult student and for me."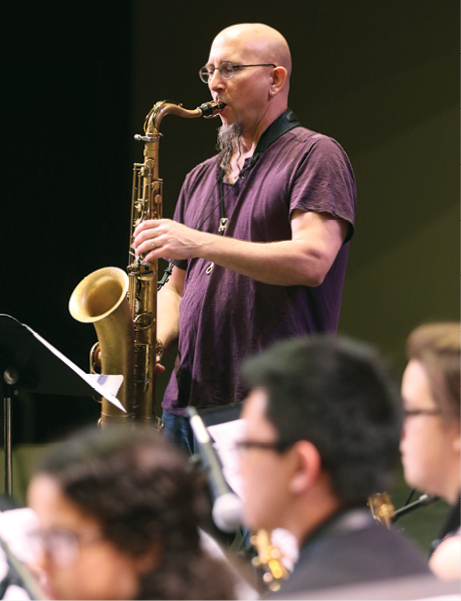 Through collaboration with the Nashville Jazz Orchestra and Nashville Jazz Workshop, Middagh's students have regular opportunities to work with professional musicians, something that is encouraged in all genres at Blair. Venturing into the professional world fosters a student's musical sophistication, according to Heard.
"Any time you're interacting with fellow musicians, you're learning," she says.
Mary Grace Johnson, a college sophomore, has been on the substitute musician list for the Nashville Symphony since December 2013. She describes her first classical concert, which featured Mahler's Symphony No. 7, as intimidating, but says that the older players have always been welcoming, and she benefits from their rigorous approach. In a professional symphony, she says, "everyone knows exactly what they're doing." She has to match their standard, which she finds is the most challenging, but also the most rewarding part of the job.
Apart from the benefit to students' technical and professional development, the blending of generations at Blair fosters an open attitude that Schneller calls a major cultural advantage. Bringing together students of all ages encourages the idea that music is for everybody, not just a "special thing that special people do," she says. This notion is at the center of Blair's mission to provide educational excellence and public service. "We're here to help build people who love music and are well-rounded human beings."