Stephen Miahky, Joseph Joachim Professor of Violin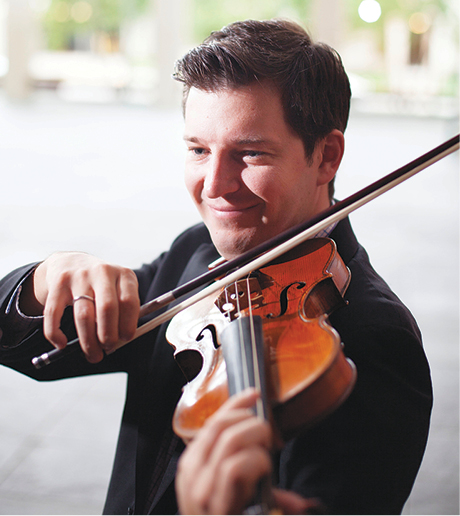 A teaching continuum
More than most professions, music celebrates the line of succession from teacher to student. Almost all master performers are also master teachers, passing on knowledge gained from experience to the next generation. Stephen Miahky, Joseph Joachim Professor of Violin, understands the importance of this time-honored approach.
"I'm a big believer in that aspect of history, how in the music world we hand things off to each other," he says. "The fact that our teaching is done one-on-one, and in some ways is very much part of an oral tradition, it's a continuum."
Miahky teaches undergraduate and precollege students at Blair. "Not many universities can claim such a great precollege program," he says. "That's one thing that's very exciting about Vanderbilt. When there are young musicians involved in the culture of the institution, it enhances the life of the university."
As a performer, he plays first violin in Blair's signature chamber ensemble, the Blair String Quartet, a position previously held by Christian Teal, who retired from Blair in July 2014 after 42 years.
"Replacing Chris is impossible," Miahky says. "He's been such a force and shaper of Blair. My goals are to try to build on what he's done and keep going with the traditions that already have been started."
One of those traditions is championing works by contemporary composers. Miahky, who is a member of the Brave New Works ensemble and the IRIS Orchestra—both of which focus on contemporary music—was drawn to the Blair String Quartet's commitment to playing works by new composers, such as Images from a Closed Ward, written for the ensemble by Michael Hersch.
"We need to be advocates for the music of our time," Miahky says. "I'm very happy that the quartet and others on the faculty tackle new works, bringing them to the forefront. It's our responsibility.
"When you go to an art museum, you always want to see the great works of the past, but how they speak to the arts of the present is perhaps more interesting than the works themselves. That's always been a big part of my musical life—performing, commissioning and interpreting new music."
—Bonnie Arant Ertelt
Heather Conner, senior artist teacher of piano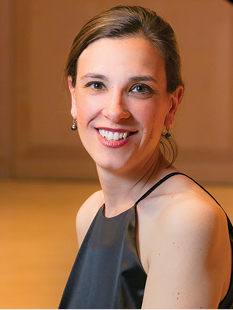 As a recitalist and chamber musician, Heather Conner has performed in New York City, Philadelphia, Los Angeles, New Haven, Moscow, Salzburg, Seoul and Salt Lake City. She won grand prizes at several international and national competitions and has performed on numerous occasions as a soloist with the Philadelphia Orchestra. She has recorded for the Naxos and Centaur labels and has been heard on NPR's Performance Today.
Conner completed her doctor of musical arts in piano performance at the Manhattan School of Music studying with Arkady Aronov, a master of music from the Yale University School ofMusic under the guidance of Peter Frankl, and a bachelor of music from the Curtis Institute of Music as a student of Eleanor Sokoloff.
Ji Hye Jung, associate professor of percussion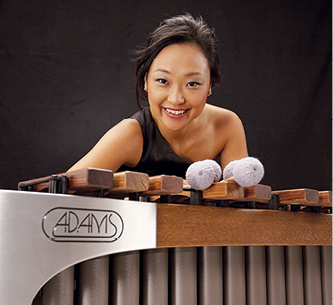 Beginning her career in her native South Korea at the age of 9, Ji Hye Jung garnered consecutive first prizes at the 2006 Linz International Marimba Competition and the 2007 Yale Gordon Concerto Competition after coming to the United States in 2004. She has presented concerts and master classes throughout the world, including with the Houston Symphony, at Carnegie Hall, the Virginia Arts Festival, the Curtis Institute, the Peabody Conservatory, Rice University, Beijing's Central Conservatory and the Karol Szymanowski Academy of Music in Katowice, Poland. As the principal percussionist of West Coast-based chamber group Camerata Pacifica, she has presented premiere performances of works by Bright Sheng and Huang Ruo.
She holds a master of music from the Yale School of Music and a bachelor of music from the Peabody Institute of Johns Hopkins University, both under the tutelage of Robert van Sice.
Christina McGann, adjunct artist teacher of violin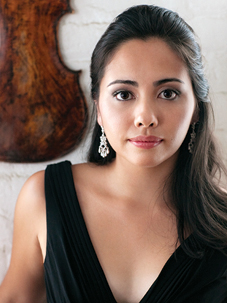 Christina McGann has been a featured performer at the Kennedy Center, the Tel Aviv Performing Arts Center, New York City's Merkin Hall, Symphony Space and at various venues throughout the U.S., Korea, El Salvador and Europe. She has performed concertos with orchestras including the National Symphony Orchestra, Musica Bella Orchestra in New York, the Moldovan Chamber Orchestra, the National Chamber Orchestra in Washington, D.C., and the St. Petersburg Academic Symphony in Russia. She is also a sought-after orchestral musician and has been guest concertmaster of the National Philharmonic Orchestra and the Cape Cod Symphony.
McGann holds bachelor and master of music degrees in violin performance from the Juilliard School. Her principal teachers include Ronald Copes, Victor Danchenko, Robert Mann and Donald Weilerstein. She received her doctor of musical arts from State University of New York, Stony Brook, under the guidance of Soovin Kim, Philip Setzer and Hagai Shaham.
Ryan Middagh, lecturer in jazz studies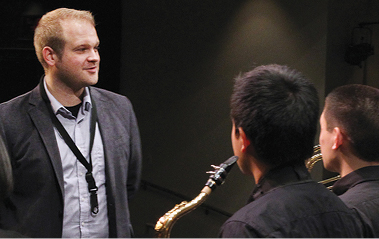 Ryan Middagh has received numerous commissions to write and arrange for high schools, colleges and professional musicians and ensembles throughout the country, and currently arranges music for Grammy-winning saxophonist Jeff Coffin. His music has been featured at the International Jazz Composers Symposium, recorded by professional and collegiate ensembles, and has been published by University of Northern Colorado Jazz Press.
As a saxophonist, he is endorsed by Conn-Selmer as a Yanagisawa Artist. He has performed with the Cab Calloway Orchestra, Nashville Jazz Orchestra and the Colorado Jazz Orchestra. Leading his own jazz octet, he has released two albums, Colorado Brew: Featuring Jeff Coffin and Tom Giampietro and To Somewhere and Back Again.
Middagh is pursuing his Ph.D. in jazz studies with a secondary emphasis in music composition at the University of Northern Colorado. He has earned three Downbeat awards as a member of UNC Jazz Lab Band One and sang in the Grammy-nominated Northern Colorado Voices.
Allison Edberg Nyquist, adjunct professor of baroque violin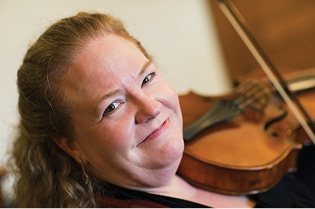 Allison Edberg Nyquist is concertmaster of the Indianapolis Baroque Orchestra, served as guest director of Music City Baroque this year, and is a member of Ensemble Voltaire, The Vivaldi Project and Baroque Band (Chicago). She performs frequently with Chatham Baroque, the Washington Bach Consort, and at the Indianapolis Early Music Festival and Bloomington Early Music Festival. Her discography includes recordings for the Eclectra, Delos and Centaur CD labels.
Highly regarded as a teacher, she has served on the faculties of Indiana State University, DePauw University, Ohio State University, the Interlochen Arts Camp and Lawrence University. She studied with Stanley Ritchie at the Indiana University Early Music Institute. She received a master of music from the University of Michigan where she studied with Camilla Wicks. Her bachelor's degree is from the Peabody Institute with Daniel Heifetz.
Lindsey Reymore, adjunct artist teacher of musicianship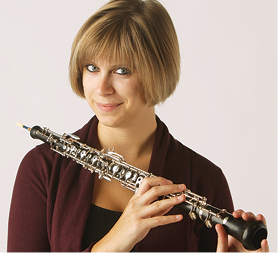 Lindsey Reymore is a member of the musicianship faculty at the Blair School of Music, where she collaborates with Marianne Ploger, associate professor of music perception and cognition.
She has played with numerous festival orchestras, including the Banff Festival Orchestra, National Music Festival, Hot Springs Music Festival and the Marrowstone Fellowship Chamber Orchestra. She also plays baroque and classical oboe and is a member of the Austin Baroque Orchestra.
Reymore holds a master of music in oboe performance from the University of Texas at Austin as a student of Rebecca Henderson, and a bachelor of music from Vanderbilt University as a student of Jared Hauser.
Douglas Shadle, assistant professor of musicology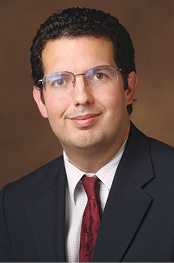 Douglas Shadle's core research focuses on transatlantic musical cultures of the 19th century. His current book project, under contract with Oxford University Press, examines the complex and protean relationships between composers, performers, critics and audiences as nearly 50 American symphonists vied for space within national and international musical arenas throughout the century. He has contributed a chapter on early American symphonists to the final volume of A. Peter Brown's The Symphonic Repertoire and an entry on "The Orchestra" to Oxford Bibliographies Online.
Previous research has appeared in American Music, Journal of the Society for American Music, Journal of Music History Pedagogy, MLA Notes, Journal of Musicological Research, and a peer-reviewed digital humanities project titled Verses and Fragments: The James L. Dusenbery Journal (1841–1842), hosted by the university library of the University of North Carolina at Chapel Hill.