A Gift for the Future
On February 7 and 8, the Blair School of Music hosted the inaugural concerts on its new Dobson Organ, Opus 92.
Modeled after German organs of the 18th century, the instrument, built by the Dobson Organ Company and installed last August, is in the style that Bach would have known, thus allowing the Blair School to present important music from the 18th and 19th centuries as it would originally have been performed—a rare and thrilling prospect.
Cal Turner Jr., BA '62, and his sister, Laura Dugas, made the gift of this organ in honor of Cyrus Daniel, Vanderbilt University organist from 1946 to 1968, on behalf of all of Mr. Daniel's former students. It is a privilege to honor in a tangible way a man who touched the lives of countless students over the years and, through this instrument, will continue to do so for many more.
—Dean Mark Wait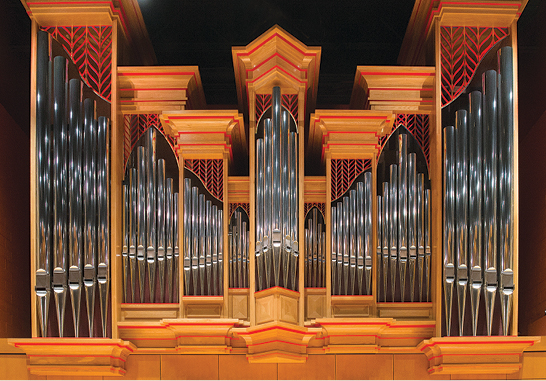 From the organ's elaborate white oak case to its Carpathian elm burl music desk and stop jambs, to its walnut bench and ebony sharp keys, the organ is itself something of a symphony in woods. Those varied grains are gently analogous to the musical lines that will set them resonating when the organ is played.
Even when standing quietly in place, these pipes seem full of latent energy, as if waiting for the breath that will make them sing.
—Carl Smith, senior lecturer in music, composition and theory