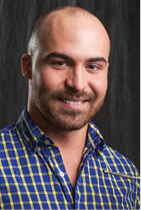 New Director of Admissions Thomas Crespo is making a return to the Blair School — he graduated from Vanderbilt in 2011 with a bachelor of music in bassoon performance and double minors in leadership and organization and in corporate strategy.
Crespo earned a master of music in bassoon performance and chamber music performance in 2013 from the University of Michigan. He began working in Michigan's admissions office in 2012, most recently serving as recruitment coordinator and senior counselor for Michigan's School of Music, Theatre and Dance.
Crespo performs regularly with orchestras around Michigan and Tennessee, including the Grand Rapids Symphony and Toledo Symphony, and has participated in numerous festivals, orchestral tours, and summer programs, including the Aspen Summer Music Festival and Vanderbilt Summer Musique Académie in Aix-en-Provence, where he studied with the Berlin Philharmonic Wind Quintet.