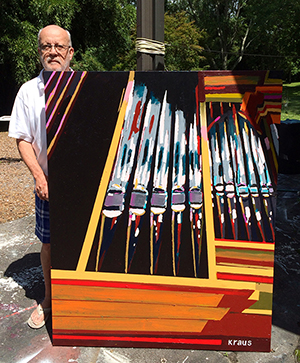 On October 24, immediately following the Blair String Quartet's performance in Ingram Hall, the Blair School of Music at Vanderbilt University will formally unveil the Kraus Collection, a set of five music-themed paintings by noted artist Harold Kraus.
The collection includes "Splendid Pipes," a new work by Kraus that depicts the Blair School's new Dobson pipe organ (pictured).
Please join us for a post-concert reception in Ingram Lobby to see the paintings, meet the artist, and view these exciting works of art. We'll also be celebrating the 25th reunion of the Blair School's first collegiate graduating class.
The Blair String Quartet performs at 8 p.m. Saturday, October 24, in Ingram Hall. The reception will immediately follow the performance in Ingram Lobby. Admission is free, and free parking is available in West Garage, directly across the street from the school. Complimentary valet parking will be available as well.
About Harold Kraus:
Educated at the University of Wisconsin, the American Floral Art School in Chicago and Lipscomb University in Nashville, Harold Kraus brings a unique diversity of training, life experience and passion to his work. A self-described "colorist," his style exudes a fascination with the properties and power of color.
After years of work as a florist, designer and artist, Kraus has observed that, "Many people lead color-starved lives. I imagine they are intimidated and unsure of how much is too much, and surround themselves with neutral and muted earth tones just to play it safe." Kraus paintings march squarely into the color void with vivid light and deep emotion. Fans and collectors of Kraus art often remark that his colors make an entire room "sing" where before it was silent. Recognition and shows include special exhibitions at The Carl Van Vechten Gallery, Fisk University, and the Parthenon, Nashville; Tennessee Art League Award; Tennessee Art League Grand Award; Tennessee All State Exhibition Award; Coca Cola Exhibition Merit Award, Purchase Award and Second Place; Nashville Parade of Homes and Designer Showcase 1985-1992; and one-man shows in multiple galleries since 1987.
Among the many notable Kraus collectors are: President and Mrs. George H.W. Bush; Vice President Al Gore; Mr. & Mrs. H. Ross Perot; the Estate of Julia Child; Ralph Emery; Mrs. Pat Summerall; J.D. Powers & Associates; Adam's Mark Hotel; Karl Dean; Coca-Cola; Loews Hotels; Endata; former Miss America Heather Whitestone; Dallas Children's Hospital; Henredon Furniture; Hilton Hotels; Elon University; Amy Grant; J.C. Bradford Company; Renasant Bank; Gilda's Club, Nashville (Gilda Radner); Adams Reese; Parman Energy; Jack's BBQ; Standard Candy Co. ("GooGoo Clusters"); and Lipscomb University.