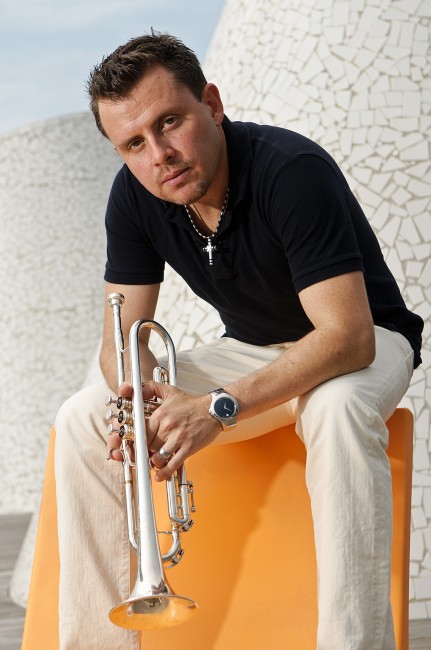 The Blair School of Music at Vanderbilt University is pleased to announce the appointment of internationally acclaimed trumpeter Jose Sibaja as Associate Professor of Trumpet. He will join the faculty in August 2016.
"I'm incredibly excited to join the Blair School of Music," said Sibaja, "an institution that believes in the future of music, future of musicians and their new demands. Forward thinking at its best."
Sibaja replaces outgoing Professor of Trumpet Allan Cox, who will retire at the end of the 2015-'16 academic year. Sibaja will take over the trumpet position in the Blair Brass Quintet and will work closely with the Blair School's burgeoning jazz program.
"Jose Sibaja is one of the most acclaimed and versatile trumpet players on today's music scene," said Cox, "a virtuoso with command of many musical styles (classical, jazz, pop, Latin) and mediums (solo, orchestra, chamber music). Add to all this a charming, sensitive person with a zest for life, and you get a wonderful artist who tells compelling musical stories. He had a profound impact on the Blair trumpet studio when he came a guest artist in February 2015."
"The Blair School is very fortunate to include Jose Sibaja on our faculty," said Blair School Dean Mark Wait. "With a career that is both distinguished and admirably varied, he will help our students acquire the many skills needed in 21st-century careers. He is really at the top of his profession."
A highly versatile performer, the Costa Rica-born musician is equally comfortable in classical, Latin, jazz and pop music. His career has ranged from international appearances as an orchestral soloist with Orquesta Sinfonica Venezuela and Orquesta Sinfonica de Costa Rica to performing with Ricky Martin on the "Vuelve" and "Living la Vida Loca" international concert tours.
He has served as principal/co-principal trumpet of the Orquesta Sinfónica Venezuela, Sinfonieta de Caracas, the Miami Symphony Orchestra, the West Palm Beach Symphony, and Florida Grand Opera, and he has been lead trumpet of the Boston Brass since 2006."
Sibaja is a two-time Grammy and three-time Latin Grammy winner for recordings with artists such as Gloria Estefan, Luis Enrique and Elvis Crespo. He has also recorded with Ricky Martin, Alejandro Sanz, Rey Ruiz, Tito Nieves, and Celia Cruz, among others, and his television appearances include the American Music Awards, MTV Awards, Grammy Awards, and Latin Grammy Awards shows, as well as appearances on Conan O'Brien, Saturday Night Live, The Tonight Show with Jay Leno, The Today Show, and Late Night with David Letterman.
As a teacher and clinician, he has been a visiting professor at conservatories in Venezuela, Finland, Singapore, and Poland, and he has presented concerts and master classes throughout the world.