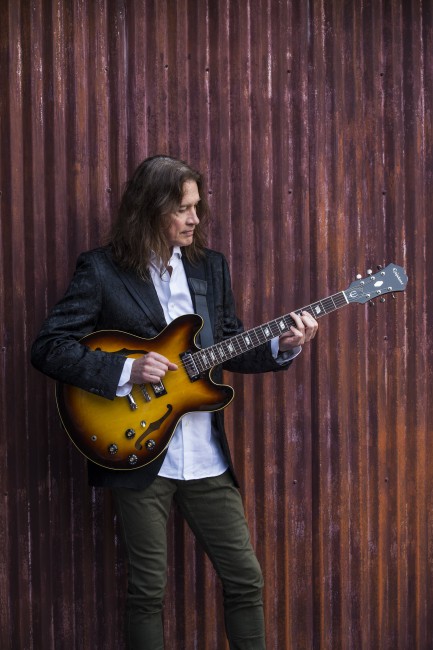 UPDATE: For those who are not able to attend this evening's Conversation with Robben Ford in person, the event will also be streamed live online starting at 8 p.m. CST. The feed may be viewed via our streaming site in the Steve & Judy Turner Recital Hall window.
On Tuesday, February 2, at 8 p.m., the Blair School's Conversations Series will welcome five-time Grammy nominee and guitar virtuoso Robben Ford as the featured artist.
Blair professor Jen Gunderman will conduct an intimate, informal on-stage conversation with Ford, who has worked with such legends as George Harrison, Miles Davis and many others, followed by a brief performance and a Q&A session with the audience.
A Conversation with Robben Ford will take place at 8 p.m. Tuesday, February 2, in Steve and Judy Turner Recital Hall at the Blair School of Music, 2400 Blakemore Ave. Admission is free on a first come, first served basis. Ample free parking is available in West Garage on Children's Way, directly across the street from the school.
Jen Gunderman, who will interview Ford and moderate the audience Q&A, is Assistant Professor of Musicology at the Blair School. Courses she teaches include History of Rock Music, American Popular Music, and Women and Rock. A regular keyboard player and singer in Sheryl Crow's touring band, Gunderman is currently producing a Coursera MOOC (Massive Open Online Course) titled "Understanding the Music Business: What Is Music Worth?"
"The list of Robben Ford's musical collaborators, which includes giants from the worlds of jazz, rock, blues and pop music, reflects not only his versatility and astonishing gift as a guitar player, but also his own artistic approach to songwriting and performing, which blurs the lines between all of these genres," says Gunderman. "I'm thrilled to have a chance to speak with a true guitar hero about his life and work, but I think the evening will be interesting not just to guitarists, but to anyone interested in hearing about a lifelong dedication to music of all styles."
The Conversations Series first launched in 1995, when Jim Foglesong, a top music industry executive and record producer, and classical guitarist John Johns interviewed guitar legend Chet Atkins. Other artists featured in the series have included singer Sheryl Crow, singer and guitar innovator Peter Frampton, fiddler Mark O'Connor, pianist Awadagin Pratt, singer Amy Grant, violinist Joshua Bell, mandolinist and country singer Marty Stuart, songwriter Beth Nielsen Chapman, guitarist and Dire Straits frontman Mark Knopfler, singer Steve Earle, songwriter, composer and musician Randy Newman, singer-songwriter John Hiatt, singer Eddy Arnold, singer Wynonna Judd, and singer and pianist Ben Folds.
Ford's appearance comes as part of a month of events in Nashville that includes a three-week residence at The High Watt beginning January 20, a sold-out guitar clinic at World Music Nashville on January 30, and an appearance on Music City Roots on February 10.
About Robben Ford
After recording his two most recent albums in Nashville and being immersed in its creative community, Ford felt compelled to return to spend more time writing, producing and recording.
Into The Sun, Ford's latest album, recorded in Music City, debuted at No. 2 on the Billboard Blues Chart. While Ford has an extensive discography, which includes more than 35 albums under his own name and with various bands, Guitarist Magazine describes Into The Sun as "one of the best things he's ever done."
In addition to being a world-class musician, songwriter and producer, Ford is a highly sought-after educator, with a series of acclaimed and groundbreaking interactive videos. He leads an annual guitar camp called the Robben Ford Traveling Dojo Guitar Camp, which features master classes, one-on-one sessions and live performances. This year's camp will take place August 29-September 2 at Full Moon Resort in Big Indian, N.Y.
Over the course of his remarkable career, Ford has also played with an impressive list of artists including Joni Mitchell, Miles Davis, George Harrison, Bonnie Raitt, Michael McDonald, Bob Dylan, Greg Allman, John Scofield, Susan Tedeschi, Keb' Mo', Mavis Staples, Brad Paisley and many others.