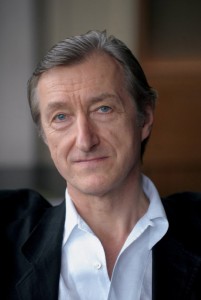 Booker Prize-winning novelist Julian Barnes and highly acclaimed pianist Angela Hewitt join forces for an exciting musical and literary residency at the Blair School March 23-25.
This is an exceptionally rare opportunity to see two such important and esteemed artists from different disciplines on the same stage. It will be an unforgettable week of prose and piano.
All events are free and open to the public, in Ingram Hall. Ample free parking is available in West Grarge, on Children's Way between 24th and 25th Avenues.
6:30 p.m. March 23: Julian Barnes will conduct a Chancellor's Lecture in Ingram Hall, reading a selection of his works and writings. A reception precedes the lecture at 5:30 p.m. in Ingram Lobby.
2-4 p.m. Thursday, March 24: Hewitt will conduct a piano master class with Blair's piano performance majors in Ingram Hall. While participation in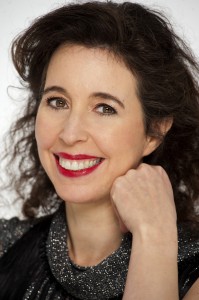 the class is limited to Blair student by audition, the public is welcome to attend and observe.
8 p.m. Thursday, March 24: Barnes and Hewitt join forces for An Evening of Words and Music in Ingram Hall. The unique program interweaves music, poetry and prose, combining Barnes' award-winning writings and works by other noted authors with pieces by Bach, Brahms, Mozart, Messaien and more.
8 p.m. Friday, March 25: Hewitt presents a marvelous solo piano program in Ingram Hall, featuring Schubert's Moments Musicaux, Op. 94, Beethoven's Sonata No. 17 in D minor Op. 31 No. 2, "The Tempest," Haydn's Fantasia in C Major, a selection of Scarlatti sonatas, and Falla's Fantasie Baetica.
About Julian Barnes
Julian Barnes was born in Leicester, England on January 19, 1946. He was educated at the City of London School from 1957 to 1964 and at Magdalen College, Oxford, from which he graduated in modern languages (with honors) in 1968.
After graduation, he worked as a lexicographer for the Oxford English Dictionary supplement for three years. In 1977, Barnes began working as a reviewer and literary editor for the New Statesman and the New Review. From 1979 to 1986 he worked as a television critic, first for the New Statesman and then for the Observer.
Barnes has received several awards and honors for his writing, including the 2011 Man Booker Prize for The Sense of an Ending. Three additional novels were shortlisted for the Man Booker Prize (Flaubert's Parrot 1984, England, England 1998, and Arthur & George 2005). Barnes's other awards include the Somerset Maugham Award (Metroland 1981), Geoffrey Faber Memorial Prize (FP 1985); Prix Médicis (FP 1986); E. M. Forster Award (American Academy and Institute of Arts and Letters, 1986); Gutenberg Prize (1987); Grinzane Cavour Prize (Italy, 1988); and the Prix Femina (Talking It Over 1992). Barnes was made a Chevalier de l'Ordre des Arts et des Lettres in 1988, Officier de l'Ordre des Arts et des Lettres in 1995 and Commandeur de l'Ordre des Arts et des Lettres in 2004. In 1993 he was awarded the Shakespeare Prize by the FVS Foundation and in 2004 won the Austrian State Prize for European Literature. In 2011 he was awarded the David Cohen Prize for Literature. Awarded biennially, the prize honours a lifetime's achievement in literature for a writer in the English language who is a citizen of the United Kingdom or the Republic of Ireland. He received the Sunday Times Award for Literary Excellence in 2013 and the 2015 Zinklar Award at the first annual Blixen Ceremony in Copenhagen. In 2016, the American Academy of Arts & Letters elected Barnes as an honorary foreign member.
Julian Barnes has written numerous novels, short stories, and essays. He has also translated a book by French author Alphonse Daudet and a collection of German cartoons by Volker Kriegel. His writing has earned him considerable respect as an author who deals with the themes of history, reality, truth and love.
Barnes lives in London.
About Angela Hewitt
One of the world's leading pianists, Angela Hewitt regularly appears in recital and with major orchestras across the world. Admitted into Gramophone's Hall of Fame in 2015, Hewitt's performances and recordings of Bach have drawn particular praise, marking her out as one of the composer's foremost interpreters of our time.
Highlights of Hewitt's 2015-16 season include the Toronto Symphony Orchestra, Festival Strings Lucerne and Zürcher Kammerorchester – each directed from the keyboard – and the Calgary Philharmonic Orchestra. In spring 2016 she tours Asia with the Academy of St. Martin in the Fields and Sir Neville Marriner. Recent orchestral appearances include Washington's National Symphony Orchestra, Orquestra Sinfônica Brasileira, Hamburger Symphoniker, and the Vancouver Symphony, Japan Philharmonic and Swedish Chamber orchestras, as well as tours with Camerata Salzburg and kammerorchesterbasel.
In recital Hewitt performed at the Royal Festival Hall in October 2015 as part of the International Piano Series, before returning to Wigmore Hall in April 2016. Other highlights this season include Ghent Festival, 92nd Street Y, Spivey Hall, Philadelphia Chamber Music Society and St George's, Bristol; and an evening of words and music with author Ian McEwan at Vienna Konzerthaus. In August 2015 Hewitt was resident at Shakespeare's Globe in London for four concerts and also performed a recital at the Edinburgh International Festival.
Hewitt's award-winning recordings have garnered praise from around the world. Her recording of Bach's The Art of Fugue was released in 2014, and her 10-year project to record Bach's major keyboard works for Hyperion has been described as "one of the record glories of our age" (The Sunday Times). Hewitt's most recent releases include her fifth volume of Beethoven's sonatas, solo works by Liszt including his Piano Sonata, and Messiaen's Turangalîla Symphony with the Finnish Radio Symphony Orchestra and Hannu Lintu. A first album of Scarlatti Sonatas was released this spring. Her discography also includes CDs of Mozart, Schumann, Couperin and Rameau.
Born into a musical family, Angela Hewitt began her piano studies at age 3, performing in public at 4 and a year later winning her first scholarship. She studied with Jean-Paul Sévilla and won the 1985 Toronto International Bach Piano Competition. Hewitt was made an Officer of the Order of Canada in 2000 and was awarded an OBE in the Queen's Birthday Honours in 2006. She lives in London but also has homes in Ottawa and Italy, where she is Artistic Director of the Trasimeno Music Festival.