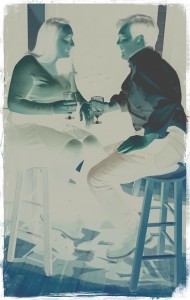 Following its grand-scale fall production of Leonard Bernstein's Mass, Vanderbilt Opera Theatre returns with a change of pace.
Written in 2013 by American composer Michael Ching, Speed Dating Tonight! is an immersive, interactive comic opera in one act about ordinary people looking for love in a post-millennial world. This intimate, character-driven show, set in a Nashville nightclub, pulls the curtain back on dating in the 21st century.
Speed Dating Tonight! will be performed at 6 p.m. Saturday, March 19, in the Blair School's Instrumental Rehearsal Hall. Light refreshments will be served starting at 5:45 p.m.
Vanderbilt Opera Theatre also presents Speed Dating Tonight! at 7 p.m. Monday, March 28, at City Winery. Tickets are $7, available through the City Winery website. This performance will be presented in the upstairs lounge area, and is open to all ages.