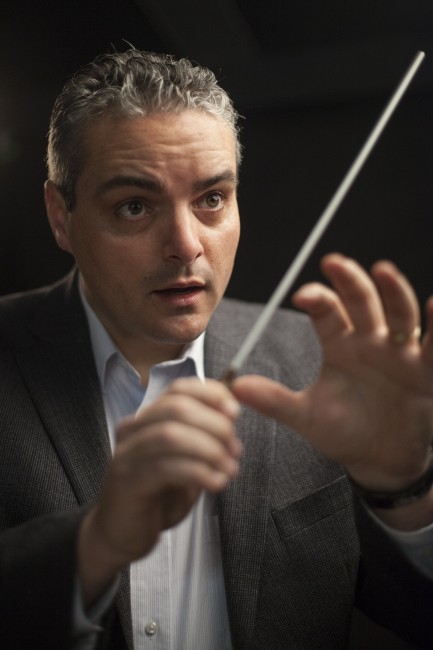 The Nashville Symphony has announced that Dr. Tucker Biddlecombe, Associate Professor and Director of Choral Activities at Vanderbilt University's Blair School of Music, will take over as Interim Director of the Nashville Symphony Chorus in July. Biddlecombe assumes leadership of the chorus from current Director Kelly Corcoran, who will step down from her post following the chorus' performances of Mahler's Third Symphony on May 26-28.
Biddlecombe will prepare the all-volunteer ensemble for a number of notable performances during the Nashville Symphony's 2016-17 season, including Mahler's Second Symphony and Handel's Messiah, as well their featured role on John Harbison's Requiem, which will be recorded live in May 2017 for future worldwide release.
"Over the course of more than five decades, the Nashville Symphony Chorus has evolved into Music City's premier choral ensemble and developed a reputation for excellence in the performance of the full choral repertoire," said Giancarlo Guerrero, Nashville Symphony Music Director. "I am thrilled to have Dr. Biddlecombe on board as we embark on a historic and exciting season ahead, and I am confident that the Chorus will enjoy continued growth under his leadership."
"I'm honored to take up the reins of the Nashville Symphony Chorus, and thankful to Kelly Corcoran for her many years of service — the Chorus is in fine shape thanks to her leadership and artistry," said Biddlecombe. "There's nothing quite like meeting the challenge of balancing the professional orchestra with a volunteer chorus in performance of our greatest repertoire. If it can be done anywhere, it's here in Music City."
Biddlecombe has more than a decade of experience as a public school music educator and has helped reinvigorate choral activities at the Blair School of Music since joining the faculty in 2012. He teaches courses in choral conducting, serves as Director of Blair's five-year Bachelor of Music/Teacher Education degree (Ma5) program and is a recipient of the Blair Faculty Excellence Award. As conductor of the Vanderbilt Chorale and Symphonic Choir, Biddlecombe has led choral-orchestral performances of Haydn's Creation, Bernstein's Chichester Psalms and Fauré's Requiem, and he created the annual Choral Prism concert, one of the largest-drawing student performances on the Blair concert calendar. He is also an active guest conductor, having led all-state choruses in Alabama, Arkansas, Florida and New York, and having conducted clinics for more than 100 high school choirs touring Nashville.
Biddlecombe holds a Ph.D. in Music Education and a master's in Choral Conducting from Florida State University, and a bachelor's in Music, with majors in Vocal Performance and Music Education, from the Crane School of Music at SUNY Potsdam. A native of Buffalo, New York, he resides in Nashville with his wife Mary Biddlecombe, Artistic Director of the Blair Children's Chorus — a frequent collaborator with the Nashville Symphony.
Formed in 1963, the Nashville Symphony Chorus comprises 200 singers representing every part of the Middle Tennessee community and regularly presents significant works from the classical repertoire, from Baroque to contemporary. In addition to at least two performances each season as part of the Nashville Symphony's Aegis Sciences Classical Series, the Chorus also takes the spotlight every year during Voices of Spring, a free concert of choral works.