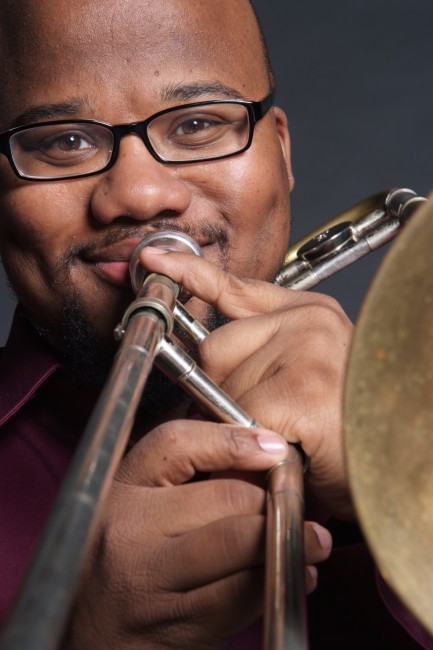 Trombonist Roland Barber will join the faculty of the Blair School of Music in January 2017 as Adjunct Associate Professor of Trombone and Jazz Studies, teaching trombone, jazz brass and jazz improvisation. One-half of longtime Nashville-based jazz duo The Barber Brothers, Barber has also performed with an impressive and diverse list of artists, including Chaka Khan, the Duke Ellington Orchestra, Wynton Marsalis and Jazz at Lincoln Center, Kirk Whalum, the Wooten Brothers, Robin Thicke, The Temptations, and the Saturday Night Live Band.
"We are very fortunate to have Roland join the Blair community," said Blair School Dean Mark Wait. "He is a consummate musician who is versatile and accomplished in many fields — exactly the kind of musician we seek to develop for the future."
"Teaching at Blair has a special significance to me," said Barber. "As a young teenager, I began studying compositions and music theory on my own, but some of my first formal musical study was in Blair's classrooms. This is quite a bit of a homecoming for me.
"I am excited to teach at Blair because this opportunity presents a wonderful chance to pass on to young minds some of the beauty, enthusiasm, and lessons that I have been blessed to experience. Most of all, I hope to pass on a great enjoyment in musical pursuit. Music offers us so much; so many areas to learn in — socially, culturally, even spiritually. I want to support Vanderbilt's musicians and see them flourish as people, even through their work as musicians.
"Studying music, even in its broad and diverse tributaries (from live performance to composition, studio playing to learning to teach) offers up so many life lessons, wisdoms and truths. The study of music is, ideally, a wellspring of personal learning and growth. I hope to invite students to meet me at such a well, and hope they will find streams that will benefit them as people and musicians lifelong."
Barber has performed in venues the world over, from Manhattan to Estonia, including Carnegie Hall, Birdland, the Blue Note, Lincoln Center, and Madison Square Garden. Television appearances include MTV's Making the Band, NBC's Saturday Night Live, CBS' Today Show and the ESPN Awards. Barber has performed with titans of jazz music as well as young lions, including Stefon Harris, Clark Terry, Steve Turre, Houston Person, Jeff "Tain" Watts, Wynton Marsalis, Sean Jones, and the Grammy-winning New Orleans Jazz Ensemble.
Beyond the jazz world, Barber is an avid student of American and world music. His signature artistry includes an elegant tone, masterful improvisational storytelling, a blues-rich vocal influence, and deft technical command. Barber is also a celebrated composer and arranger, and was awarded a New Works Jazz Grant from Chamber Music America, which led to the writing and premier of his first extended suite, Songs of the Village, written for his quintet. This suite saw its world premiere at Lincoln Center in 2010. Barber's compositions also fuel his first CD (released in 2013), Heart Expressed, Art Finessed, which features a combination of musicians from the Nashville and New York jazz scenes, including drummer Ulysses Owens (Christian McBride Trio), pianist Gordon Webster, saxophonist Rahsaan Barber (Roland's twin brother), and Nashville's Jim Ferguson on upright bass.
Barber holds an M.M. in Jazz Studies from Manhattan School of Music (2005), as well as an Artist Diploma (2003) and B.M. in Jazz Studies (2001), both from Indiana University. His main stylistic influences are Al Grey, Steve Turre, J.J. Johnson, and Louis Armstrong. Barber's teachers have included David N. Baker, M. Dee Stewart, Jiggs Whigham, Steve Turre, Tom Lundberg, and Horton Monroe.