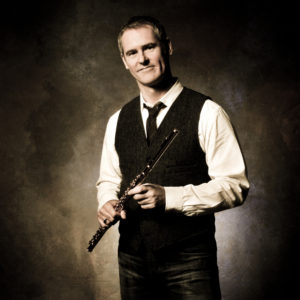 Philip Dikeman, associate professor of flute at the Blair School of Music and acting principal flute of the Nashville Symphony Orchestra, died at home from cancer April 20, 2017. He was 54 years old.
Mr. Dikeman joined the Blair School faculty in 2011 after nearly 20 years with the Detroit Symphony Orchestra, where he served as assistant principal flute and acting principal flute. He was named acting principal flute with the Nashville Symphony in 2016.
"Phil was a brilliant artist and an inspiring, dedicated teacher," said Blair School Dean Mark Wait. "His colleagues — in the Blair Woodwind Quintet, on our woodwind faculty, throughout the Blair School, and at the Nashville Symphony Orchestra — knew him to be friendly, warm and a generous spirit. We have all been fortunate to know and to work with him. He enriched our lives and the lives of our students."
"It was a gift to play chamber music with Phil," said Leslie Norton, associate professor of French horn and Mr. Dikeman's colleague in the Blair Woodwind Quintet and the Nashville Symphony. "He always brought his best self to the table. He inspired with his artistry, his flawless technique, and his array of tonal color. Phil also set a very high bar for his students. He has nurtured, mentored and inspired some very great playing in his studio."
A native of Wayne, Mich., Mr. Dikeman attended the Oberlin College Conservatory of Music, where he studied with Robert Willoughby and earned his bachelor of music. He earned his master of music from the Yale School of Music, studying with Thomas Nyfenger. He was named the George Wellington Memorial Scholar for his outstanding musical and academic excellence upon completion of his degree at Yale.
Immediately after graduation, Mr. Dikeman began his professional career when he was appointed principal flute of the Hong Kong Philharmonic Orchestra, a position he held for five seasons. Before joining the Detroit Symphony in the fall of 1992, he played principal flute for a short time with the San Antonio Symphony. He also played guest principal flute with both the Minnesota Orchestra and the St. Louis Symphony, and guest associate principal flute with the Los Angeles Philharmonic.
Mr. Dikeman was on the faculty of the Summer Arts Camp at the Interlochen Center for the Arts, where he taught five seasons as a Valade fellow, instructor of flute. In 2014 he was named program chair of the National Flute Association's annual convention. In 2015 he traveled to Berlin with the Blair Woodwind Quintet to play a concert at the invitation of the Berlin Philharmonic Woodwind Quintet.
Survivors include his parents, George and Agnes Schettenhelm Dikeman, of Ann Arbor, Mich.; his sister, Mary A. (Kevin) Lewis, of Albertville, Minn.; nephew Quintin Elliott and niece Celine Lewis; as well as aunts, uncles, cousins, colleagues and a host of friends.
A memorial service will be held in Steve & Judy Turner Recital Hall at the Blair School of Music on Sunday, April 30, at 3 p.m. It will also be live-streamed via our website.
In lieu of flowers, donations may be made to a fund in Mr. Dikeman's name at the Blair School for flute students with financial need. Checks should be made payable to the Blair School of Music with "In memory of Philip Dikeman" in the memo line. They may be mailed to:
PMB 407727
2301 Vanderbilt Place
Nashville, TN 37240
Media contact: Bonnie Arant Ertelt, 615-322-NEWS
bonnie.ertelt@vanderbilt.edu