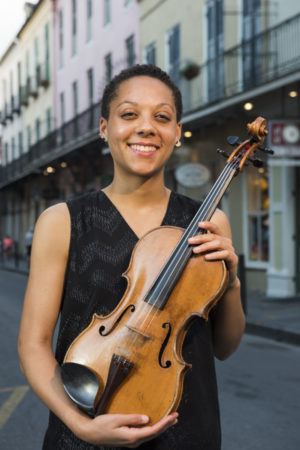 Name: Dana Kelley
Blair major: Violin performance
Year of graduation: 2012
Where you live now: New York, N.Y.
Profession: violist in the Argus Quartet, and the newest member of the Orpheus Chamber Orchestra for the 2018-19 season.
What does a typical day look like in your career?
Each day is a little different. I'm in a string quartet, the Argus Quartet, and we are artists in residence at Juilliard. We rehearse about six days a week, five or six hours each day, and get coachings and mentorship from the Juilliard Quartet. I also freelance in New York on the side, so I might be in a rehearsal for Orpheus or another ensemble during the day, performing at night, or on tour with one of the groups.
How did your undergraduate studies at Blair shape your career?
I definitely came into Blair not knowing what I wanted to do, thinking of music as a hobby. I had great relationships with my violin teacher, Connie Heard, and my viola teacher, Kathryn Plummer, and they inspired me to take music more seriously and find my own voice within the profession. They were and still are great influences who affected how I viewed music as part of my life. I really benefitted from the small size of Blair, as well. I was able to form close relationships with my peers and other faculty members and see how music fit into variety of different lifestyles.
Are there things you incorporate in your daily work that you learned here, maybe from a faculty member or a master class you participated in?
I was lucky enough to participate in a master class with Kim Kashkashian while at Blair, with whom I later studied for a master's degree. During the class, she was adamant about treating music as a unique personal and emotional expression. I used to think of music as something I had to execute, but she opened up this new world of letting music be a part of who I am, and to really showcase that during performances. That experience was the cherry on top of four years of pushing my boundaries and becoming more comfortable being myself while playing.
So far, any favorite memories or experience from your life as a professional musician?
Recently I've begun subbing with the Metropolitan Opera Orchestra, and that's something I love every time I do it.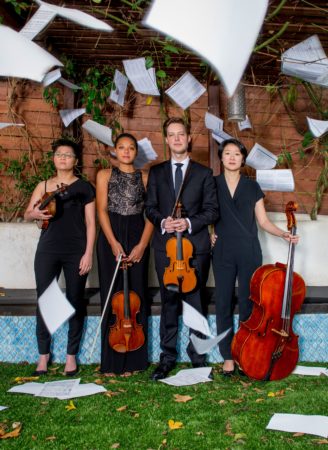 What routines, ideals or practices do you think are most important in maintaining a successful music career?
It is important to trust yourself. Music is the hardest thing I have ever done, but also the most rewarding. Especially being in New York, there is a lot of competition, so it is easy to forget why you're pursuing this craft. If you're passionate about music and emanate that passion to those around you, you're more likely to find success and happiness.
What sets Blair apart from other programs?
I think the size is a huge factor. Since it's so small, it lets you feel like you matter in the community, which I really appreciated. I also think that the fact that it is really an integrated part of Vanderbilt, and not just another building on campus, is really important and special. Even though I didn't double major or minor, I always felt that path was supported, and I had a lot of friends who pursued multiple degrees. It was easy to be both a Blair and Vanderbilt student, and comfortable in both settings.
What advice do you have for students who are considering majoring in music?
My advice is to never give up exploring. There will always be setbacks and disappointments, but you have to take those in stride. Real life can come at you fast, so while you're in college, use the time and resources to focus on music and whatever else makes you happy. Even if you're unsure how music may fit into your life in the future, remain open to opportunities that excite you because you never know where they may lead.
We are lucky that Blair is located in such a fantastic, musical location. Just for fun, could you tell us your favorite Nashville venue to see live music?
I saw a great show by the Punch Brothers at Ryman Auditorium.
The Argus Quartet performs at the Blair School of Music at 8 p.m. September 19 in Steve & Judy Turner Recital Hall.