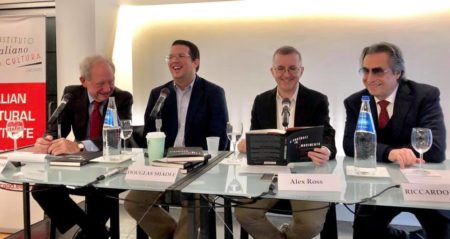 From Left: John R. Schmidt, Shadle, Alex Ross, Riccardo Muti (Photo: Dennis Polkow)
Douglas Shadle (Associate Professor and Chair, Musicology) celebrated the publication of the book A Portrait in Four Movements: The Chicago Symphony under Barenboim, Boulez, Haitink, and Muti (U. of Chicago, 2019) at a panel discussion featuring his co-editor, former US Associate Attorney General and Chicago Symphony Trustee John R. Schmidt, New Yorker music critic Alex Ross, and CSO Music Director Riccardo Muti. Held at Chicago's Italian Cultural Institute, an arm of the Italian Consulate General, on May 3, the event celebrated the book's author, the late Andrew Patner, long-time music critic for the Chicago Sun-Times and radio broadcaster for WFMT.
The book is a collection of Patner's printed reviews of the Chicago Symphony and on-air interviews with the orchestra's chief conductors from 1991 to 2015: Daniel Barenboim, Pierre Boulez, Bernard Haitink, and Riccardo Muti. Shadle provided an introduction to the volume that narrates the history of the orchestra's first 100 years, as well as historical introductions to each chapter describing the conductors' relationships to the city of Chicago.
Listen to the entire event here.