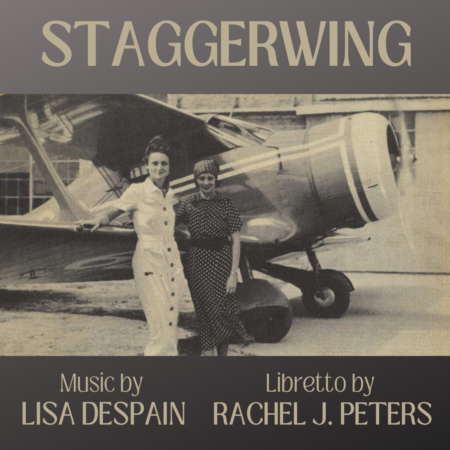 Vanderbilt Blair School of Music and Vanderbilt Opera Lab will present Staggerwing on Friday, February 17. The new opera celebrates the historic flight of Louise Thaden and Blanche Noyes as they compete in, and win, the 1936 Bendix Trophy Air Race, the first year that female-piloted teams were allowed to compete. Their plane: a Beechcraft Staggerwing Model C-17.
The winner of the 2020 biennial Zepick Modern Opera Competition, Staggerwing was composed by Lisa DeSpain and librettist Rachel J. Peters, who have worked on-site with the Vanderbilt Opera Lab students and will join the Feb. 17 performance.
Staggerwing is the inaugural work of the Vanderbilt Opera Theatre Lab. This will be a workshop production, which means that the music will not be memorized but will be performed readers theater style, from music stands with minimal staging.
"We are thrilled to officially launch the Vanderbilt Opera Theatre Lab with Staggerwing," said Stage Director Gayle Shay. "The opportunity to collaborate directly with composer Lisa DeSpain and librettist Rachel Peters has been a great experience for our students, and we are all excited to welcome the audience into the creative process on Friday."
Staggerwing will be presented Friday, February 17, 2023, 6:00 p.m., in the Instrumental Rehearsal Hall at Vanderbilt Blair School of Music, 2400 Blakemore Ave., in Nashville.
# # #
Staggerwing Cast and Crew
Stage Director: Gayle Shay
Music Director: Jennifer McGuire
Student Cast:
Louise Thaden … Mahi Patil
Blanche Noyes … Diana Nalyvaiko
Olive Ann Beech … Sophia Masullo
Bill Royale, Dewey Noyes … Jordan Haas
J. H. Turner … Owen Purcell
Walter Beech, Roy McPhetridge … Luke Dailey
Ensemble … Chaela Laus, Emma Shobe, Owen Purcell, Riley Eddins, Quin Welder
About Lisa DeSpain: A Professor of Music & Theatre at LaGuardia Community College – CUNY (City University of New York), Lisa DeSpain is an award-winning composer of musical theatre, opera, and concert works. She is the recipient of a 2018 Discovery Grant from Opera America in support of her first opera, That Hell-Bound Train and was the winner of the Opera Kansas 2020 Zepick Modern Opera Commission and the Utah Opera "Spike 150" Opera Commission (No Ladies in the Lady's Book) with her librettist Rachel J. Peters. Commissioned by a wide range of ensembles, DeSpain has composed works for The United States Air Force Band of Flight, the Cassatt String Quartet, Liz Lerman Dance Exchange, among others.
About Rachel J. Peters: Composer/librettist Rachel J. Peters writes all manner of works for the stage. Her operas include Lesson Plan (On Site Opera), Companionship (Virginia Arts Festival, Fort Worth Opera), Rootabaga Country (Sarasota Opera), Sketchbook for Ollie (Lyric Opera of Kansas City), The Wild Beast of the Bungalow with Royce Vavrek (Oberlin Conservatory), No Ladies in the Lady's Book (Utah Opera; published by E.C. Schirmer), among many others.