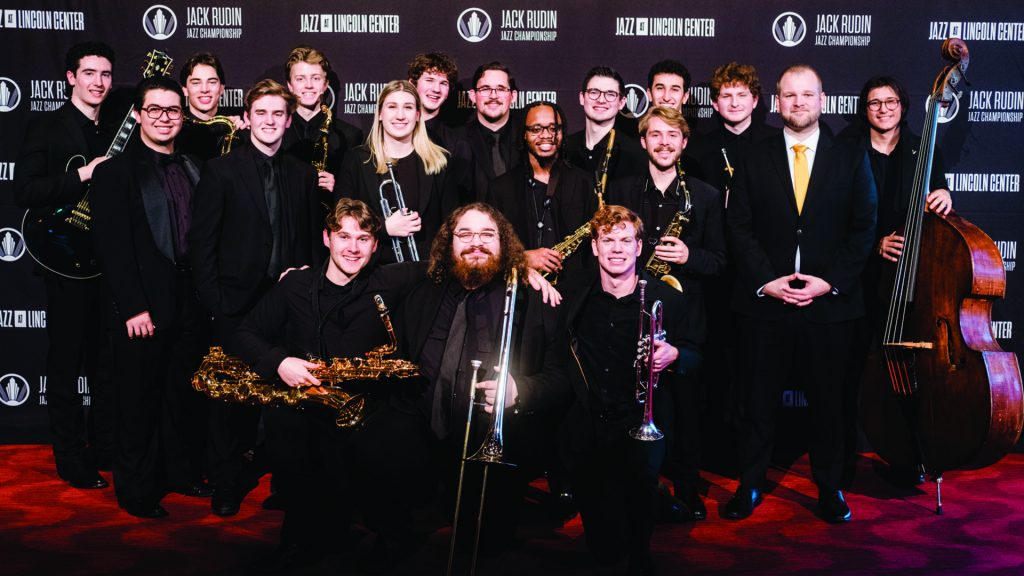 The Vanderbilt University jazz program has been awarded three DownBeat Student Music Awards in an announcement released on May 4, 2023. The honors are for Undergraduate Large Ensemble and two individual awards going to Blair senior Kevin Shinskie, for Undergraduate Outstanding Composition ("Endeavors") and Outstanding Soloist in a Jazz Combo. Founded in 1976 by the music industry's preeminent jazz publication, the Student Music Awards are considered among the most prestigious honors in jazz. Winners were officially shared in the publication of DownBeat's June jazz education issue.
The latest recognition caps a groundbreaking year for the Blair Big Band, directed by Ryan Middagh, and the school's Jazz Studies program. The Big Band and Latin Jazz Ensembles were both invited to perform at elite Jazz Education Network Conferences, and in January 2023 the Blair Big Band made its debut appearance at the Jack Rudin Jazz Championship in New York, where it was named a top four finalist and received honors for Outstanding Trombone Section and Outstanding Trumpet Section. Senior trombonist Jonathan Salcedo was also recently named a 2023 winner in Yamaha's Young Performing Artists Program. With today's recognitions, the Blair Jazz Studies program has now received a total of 12 DownBeat Student Music Awards, including seven ensemble awards and five individual honors.
"I am incredibly proud of these students and all they have accomplished over the past several years," said Ryan Middagh. "Together with our world-renowned Blair faculty, jazz at Vanderbilt has developed an international reputation for excellence in the field. Our students and faculty continue to encapsulate our institution's core values of discovery, creativity, and the pursuit of our highest human potential. We are very unique among our peer jazz programs as we are academically inclusive. Within our jazz ensembles, we have students from all four Vanderbilt undergraduate colleges represented, providing the opportunity for any Vanderbilt student to have the study of music be a meaningful part of their undergraduate experience."
Vanderbilt Blair School of Music offers conservatory-level, world-class music training at a top 15 academic institution. One of the few exclusively undergraduate music schools in the country, Blair School of Music limits enrollment to approximately 200 students in order to offer an exceptional 4:1 student-to-faculty ratio.