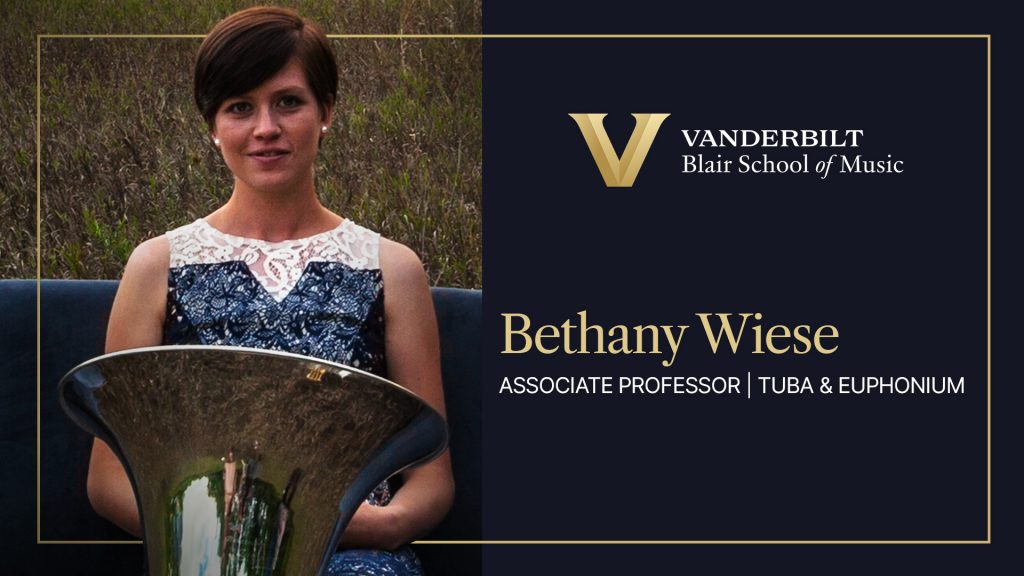 Dr. Bethany Wiese will join Blair School of Music as Associate Professor of Tuba and Euphonium in fall 2023. A native of Davenport, Iowa, Dr. Wiese most recently served as Associate Professor of Tuba and Euphonium at Appalachian State University (Boone, North Carolina) and spent two years as a fellow of the New World Symphony (Miami Beach, Florida). She holds degrees from Northwestern University (DM), Yale University (MM), and Lawrence University (BM).
"It is a tremendous honor to be joining the faculty of the Blair School of Music, as I am deeply impressed and inspired by the accomplished faculty and student body," said Wiese. "I am excited to be joining an institution with such an esteemed history of collaboration, creativity and excellence and am very much looking forward to this new chapter."
Dr. Wiese has been a prizewinner in several solo competitions including the International 'Citta di Porcia Brass Competition (Italy), the Musicians' Club of Women Scholarship Competition (Chicago), the Union League Civic and Arts Foundation Scholarship Competition (Chicago) and the Leonard Falcone International Tuba and Euphonium Competition.
Leading a diverse performance career, Dr. Wiese serves as Principal Tuba of the Asheville Symphony Orchestra and has performed with a wide variety of ensembles including the Aarhus Symphony Orchestra (Denmark), Charlotte Symphony Orchestra, Macao Orchestra, Korean Broadcasting Orchestra, and American Wind Symphony.